Lviv, Ukraine – UnderDefense, a leading outsourcing cybersecurity services provider, joins the cohort of socially responsible Ukrainian businesses that have already made substantial donations to medical organizations in Ukraine to help in the dedicated fight against COVID-19.
During May of 2020, the UD team organized an internal fundraiser to help hospitals on the front lines of the battle to equip with oxygen concentrators to save lives of those suffering from the virus. "The idea of the fundraiser was to unite as a team to do more for the community than we could do by just donating money to charity organizations. Everyone at UnderDefense could contribute some amount of money and the company multiplied the donations," says Nazar Tymoshyk, CEO of UnderDefense.
This way the company raised enough funds to order 5 oxygen concentrators and deliver them to the hospitals in the small towns and villages in the Lviv region which faced the lack of equipment to fight the virus.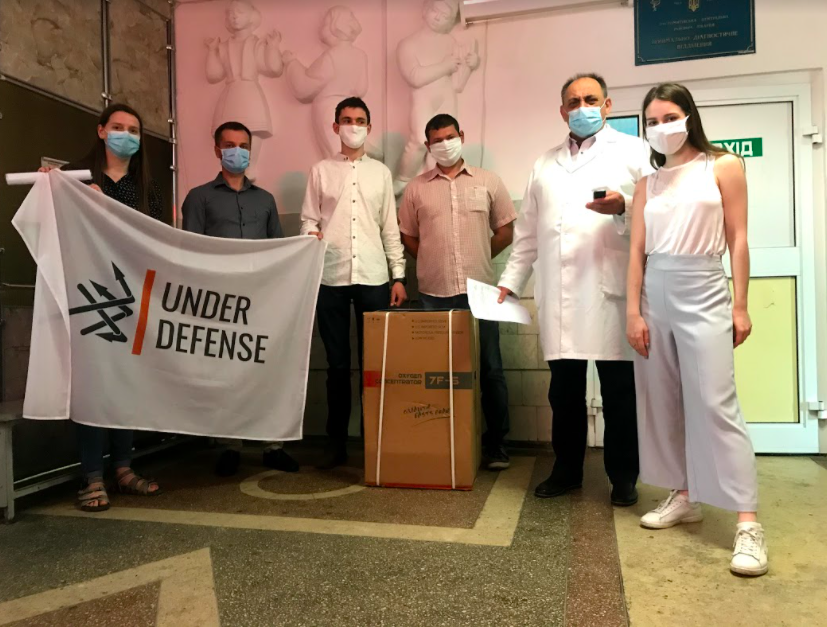 On June 12th, a group of UD employees gathered to deliver the oxygen concentrators to the hospitals. Michael Hordych, COO at UnderDefense and the fundraiser leader, shared his impressions, "It is of great importance for UD and for me personally to support our hospitals during those difficult times of pandemic. It is our kind of an 'incident response' to address the issues that emerge in Ukraine. I am extremely grateful to be involved in organizing the purchase of oxygen concentrators and transferring them to five hospitals around the Lviv region on behalf of the entire UD team".
"It is our kind of an 'incident response' to address the issues that emerge in Ukraine".
As a leader in cybersecurity, UnderDefense realizes that as a team we can contribute to the world wellbeing not only by fighting the online viruses but offline ones as well. "I am proud to work with such a team and grateful for an opportunity to multiply their contributions to the world both by helping hospitals and protecting the global security perimeter to serve people with our work. In the end, security is the most important aspect of our lives, both online and offline," says Nazar Tymoshyk.


"In the end, security is the most important aspect of our lives, both online and offline."