Security-as-a-Service Platform
Your ONE-STOP SHOP
for Security and Compliance
Comply. Strengthen. Automate. Simplify.
Benefit from a revolutionary approach to cybersecurity. Get 24/7/365 end-to-end protection, detection, and response with the UnderDefense MAXI Platform.
Market leaders trust us



















Get compliant. Become protected.
Grow.
The UnderDefense MAXI Platform is a holistic Security-as-a-Service platform that gets you covered at every step of the way. Built and vetted by reputed industry experts, the software is so powerful and effective that it makes cybersecurity ridiculously simple. No matter if you are a team of one or hundreds, the unified SECaaS platform will help you to protect your digital ecosystem efficiently 24/7.
Set your
cybersecurity at MAXImum
with no compromise
Monitor security 24/7
Gain unprecedented visibility of your environment that allows you to easily find even a needle in the haystack. Monitor non-stop, detect suspicious activity, and stop overnight attacks.
Meet compliance requirements at lower cost
Easily connect your SIEM, Cloud, and EDR platforms, take advantage of our forever-free templates, and comply with the strictest regulatory requirements. Don't let anything hinder your business growth.
Prevent breaches with security automation
Save time and focus on bigger strategic initiatives by automating day-to-day security processes. Supercharge your defenses and be more efficient.
Integrate with any legacy ecosystem
Our Security-as-a-Service solution meets you where you are and smoothly connects with your existing digital estate. With 45+ native integrations no coding or redevelopment needed.
Eliminate alert fatigue
Filter false-positive alerts, and don't get desensitized to critical ones. Our Security-as-a-Service platform ensures trustworthy detection and helps you keep the environment secure.
Optimize your security costs
Get all the enterprise-wide protection with a single SECaaS solution. Get up and running quickly with no additional hires or hidden costs. Benefit from transparent pricing and pay as you grow.
UnderDefense 24/7 MDR
Continuous monitoring and response
Get access to a world-class cybersecurity solution and pay only for what you use. Eliminate redundant alerts, boring logs management, and unclear reports.
Detection
Detect threats immediately. Get a full picture with simple explanations: what, where, when it happened, and most importantly - what to do now.
Automated Response
Configure the conditions under which the playbook will automatically trigger. Remediate incidents at every point in time.
Visibility
Keep your most important cybersecurity metrics in one place. Receive and respond only to confirmed threats.
Support
Lack of knowledge or time to work on an incident? Just ask our professional SOC specialists to help you. We are available 24/7.
Detection
Discover threats early on
Enhance visibility and detection of suspicious activity across endpoints, networks, and user activity. Stay ahead of threat actors with advanced EDR and Network monitoring, User Behavior Analytics, and Threat Intelligence.
Incident Management
Get a filtered and well-prepared report on each incident. The criticality of the threat, what's known about it, and when and where it happened in plain language.
Dark Web Monitoring
Track staff password leaks or the appearance of information about your company on the Dark Web. Identify compromised email addresses and take prompt actions to remediate vulnerabilities.
Dashboards
Evaluate the effectiveness of your security. Quickly find your most vulnerable endpoints and improve your defenses.
On-Demand Threat Hunting
Request review of a suspicious file, link, or IP address. Get all the details about them in your account.
Analytics
A sophisticated understanding of threats
Get comprehensive forensics to understand exactly what's happened. Minimize the damage caused by an incident with expert advice on what should be fixed.
Know What Happened
Get insights into the root cause of a security incident. Benefit from detailed evidence for further investigation.
Know Where Happened
Get an in-depth view of the affected assets and their location within your network. Pinpoint the source of an incident and quickly respond to it with minimal disruption
Know How to Fix It
Get clear guidance on how to remediate a security incident as quickly as possible. Restore your systems promptly and securely
Dynamic Operational Security Reporting
Benefit from intelligent reports that clearly demonstrate what's happening across the entire enterprise. Check and analyze your results, present them to the stakeholders, and easily prove effectiveness.
Response
Automated threat response
Responding to incidents has never been easier. Automate the process with custom playbooks or involve a team of experts to help.
Eliminated Alert Fatigue
Reduce the burden on the security team. Create custom incident response sequences and ease alert fatigue.
Automated Remediation
Configure the conditions under which the playbook will automatically trigger. Remediate incidents at every point in time.
Emergency Support
Resolve incidents involving SOC specialists when necessary. Not sure what to do? Just chat or call us. We are available 24/7.
Compliance
Become compliant easily
Make sure you are up-to-date on the latest cybersecurity standards and regulations. Become compliant and scale your business without limitations.
Forever-Free Policy Templates
Make it easier to develop, implement, and maintain compliance standards with ready-to-use policy templates that are forever free for all our clients.
Readiness Assessment
Gain insight into your cybersecurity posture with our comprehensive readiness analysis. Take corrective action to fix issues and pass the audit.
Audit Management
Review internal operations to ensure your business adheres to important regulatory guidelines. Buy an extra service from UD to get clear recommendations on addressing weaknesses quickly and cost-effectively.
Automation
Next-gen security automation from the get-go
Strengthening business cybersecurity has never been easier. Automate all processes from prompt detection to smooth remediation, use prebuilt/custom playbooks, and react immediately 24/7 with one platform.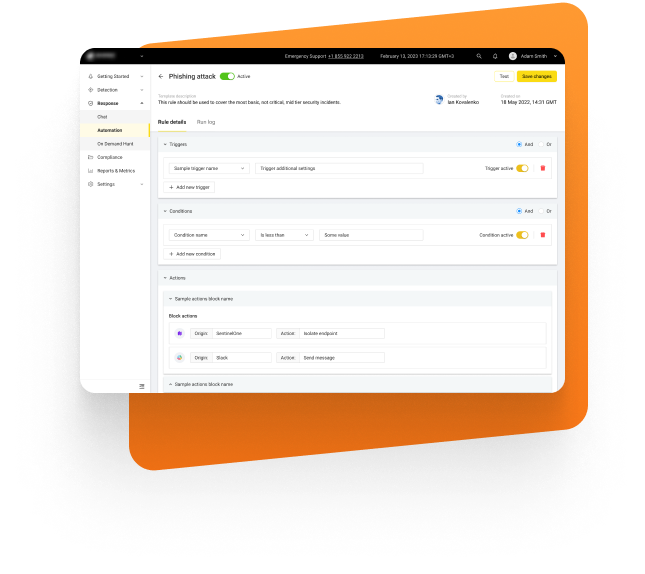 Predefined Playbooks
Benefit from ready-to-use playbooks built by our cybersecurity experts. Select the necessary workflow from the library with 1-click and react to threats across your environment immediately.
Custom Playbook Builder
Haven't found a necessary workflow? No problem. Build your own incident response playbooks quickly, boost your response capabilities, and ensure higher productivity.
Immediate Response 24/7
Automate necessary response actions and guarantee full business protection 24/7/365. Reduce response time to an absolute minimum, all while optimizing your security costs and workloads.






























Don't lock in on the predefined vendors
You choose security tech— we make it work better
Supercharge your cybersecurity posture with
45+ native integrations
"UnderDefense MAXI Platform was built by cybersecurity experts for people with non-technical backgrounds and those managing several projects at once. Get rid of redundant alerts, boring logs management, and unclear reports. Know what action you should take in any specific situation just in minutes. With the UnderDefense MAXI Platform, all that becomes possible."
Become one step closer to an
efficient security
No credit card required