We need to admit that the new normal is still taking shape. We're still going through substantial digital shifts driven by the need for stable remote access and collaboration. As dependence on cloud computing services and digital technologies rises rapidly, cybercrime surges along with that. Cyberattacks become more sophisticated and frequent. Meanwhile, hackers use every opportunity to turn loose ends and vulnerabilities against companies and people. They've become more innovative and agile than ever, leveraging emerging technologies, developing new offensive methods, and even collaborating.
Need 24/7 business protection and have no clue where to start?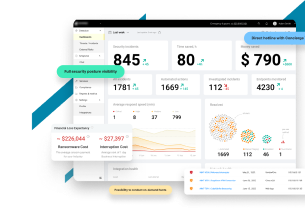 In 2023, cybercrime is expected to cost the world $8 trillion. If we'd measure it as a country, it'd be the third largest economy after the USA and China. But it won't stop there, and global cybercrime is projected to hit $10.5 trillion by 2025, compared to $3 trillion in 2015.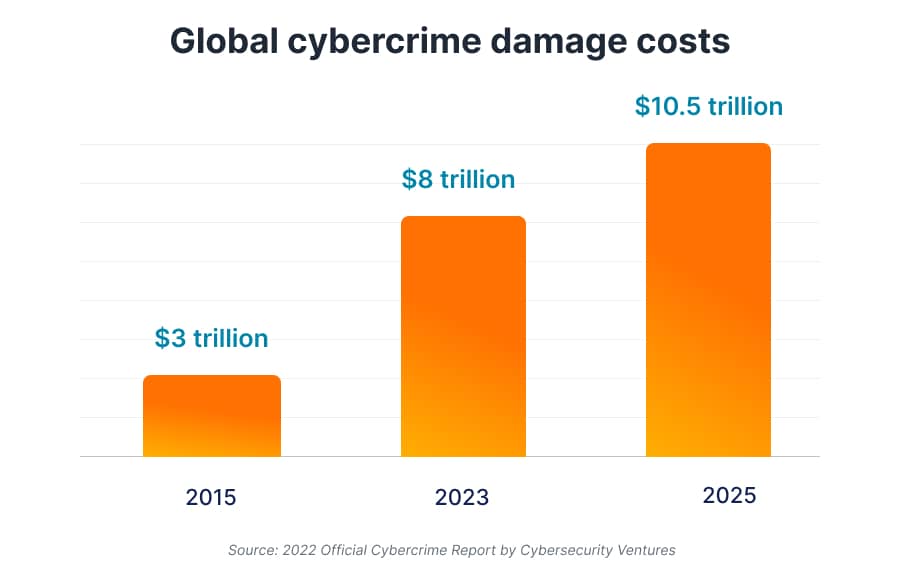 With that said, it's no surprise that business spending on risk management and information security services and products will surpass $188.3 billion in 2023.
However, what services and solutions are worth investing in? The cybersecurity market is overcrowded, and choosing effective business protection is tough. Especially considering the responsibility of choice and the common belief among c-level management that cybersecurity is a cost center. To help you get a grip on the names and abbreviations, we will compare the most widely discussed terms—MDR vs MSSP—and see how they differ. Are you with us?
Start with the basics: what is MDR in cyber security?
MDR, or managed detection and response, is a type of service offered by an external security company. It combines human capabilities and a collection of endpoint-, network-, and host-based solutions, allowing experts to prevent, detect, investigate, and contain threats in customer environments.
Top 3 challenges managed detection and response services solve
1. Alert fatigue. The plethora of security platforms and tools available on the market cuts both ways. Initially, each solution is aimed at helping companies protect themselves better against ever-evolving threats. But in practice, they often overcomplicate the workflows of security teams by generating too many alert notifications and false positives. Today over 54% of IT security professionals feel burned out in their jobs, and 64% admit that alert/investigation fatigue is the major contributor.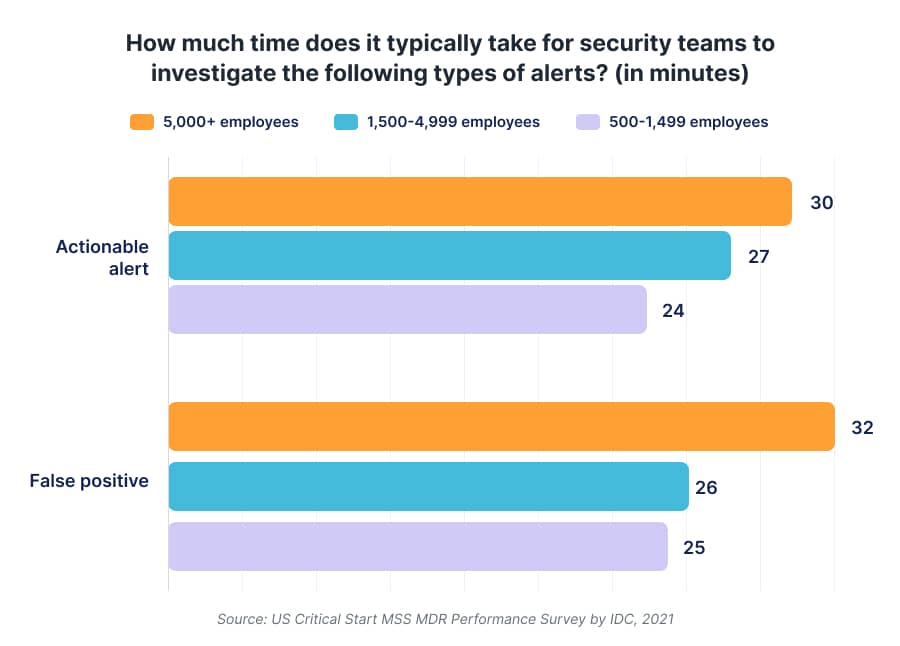 2. Cyberthreat analysis. The significant number of alerts doesn't necessarily pose a threat to business. But all of them require thorough investigation to determine their status and vector. However, overwhelmed security teams may feel demotivated, leading to apathy, neglect of security protocols and policies, and the company's higher exposure to hacking.
3. Talent shortage. In 2022, the global cybersecurity workforce shortage amounted to 3,432,476 specialists. Such a talent gap directly affects business security, and about 70% of IT security workers admit that their companies don't have enough staff to be effective. All that leads to critical issues like:
A lack of time for thorough risk assessment and management
Oversights in procedure and process
Slow patching of critical systems
A lack of time to properly train cybersecurity employees
Misconfigured systems
A lack of resources to train cybersecurity staff
Managed detection and response services can help organizations solve all these problems by providing access to their experienced cybersecurity teams, advanced analytics solutions, 24/7 monitoring, and professional online consultations.
What are the pros and cons of MDR security services?
It is important to note that the advantages and disadvantages of managed detection and response services may vary depending on your selected MDR provider.
24/7 cybersecurity coverage and uninterrupted service

Threat intelligence and proactive approach to cybersecurity

Proven, best-of-creed technologies and tools

Reduced response time to data breaches and minimized impact on business

Exhaustive alert investigation and correlation capabilities covering all data sources

Necessary skills, knowledge, and expertise brought by MDR's security team

Faster time to value and prompt service deployment without the need to recruit and train new cybersecurity professionals

Restricted reports covering only security-related features and not suited for compliance reporting

May be expensive

Requires a long-term commitment
What is MSSP?
A managed security service provider (MSSP) is a third-party company that offers cybersecurity services and solutions to other organizations. As an external IT service vendor, it gives access to necessary expertise, skills, and technologies, allowing customers to free up expensive in-house resources and focus them on more revenue-driving tasks. Cyber security managed service providers usually engage on a subscription basis and deliver a wide range of offerings for network, cloud, email, web, and software protection.
Top 3 common services managed security service providers offer
Penetration testing and vulnerability assessment. An MSSP security company assigns ethical hackers to perform simulated cyberattacks on the customer's technology and information assets. Penetration testers leverage the same techniques and tools that bad actors use to ensure maximum effectiveness. Pentests help discover vulnerabilities, validate existing cybersecurity programs, and evaluate security practices in place.
Managed security monitoring. The scope of the service depends on the selected provider and may range from basic event monitoring to comprehensive observation and management. Typically, it's the first step in responding to a security incident.
Compliance assistance. Managed security service providers offer compliance monitoring to check the customer's conformance to industry regulations and standards, including ISO 27001, PCI DSS, and others. The offering may include regular scans of the infrastructure and security devices and analysis if any changes are needed.
What are the pros and cons of MSSP cyber security?
Please, note that as with MDR, MSSP security advantages and disadvantages may vary depending on the selected MSSP company.
Cost-effectiveness compared to building an internal team

Immediate access to a wide range of security skills, technologies, and expertise

Elimination of the need to recruit, interview, compete, onboard, train, and retain in-house talent

Enhanced security posture and comprehensive protection against sophisticated attacks

Optimization of internal workload and ability to refocus internal IT security team on daily business operations and critical tasks

Absence of anomaly investigation to sort out false positives

A reactive approach to business security, meaning MSSPs don't ensure threat intelligence and hunting

Lack of actual threat response and incident remediation
It can take one email for your company to come from "Woohoo!" to "D'oh!"
Don't postpone your business security,
request a quote today
Managed detection and response vs MSSP: what is the difference?
MDR security services are growing in popularity, urging many managed security service providers to expand their offerings. And though we often hear how two terms are used interchangeably, we must emphasize that they are not synonyms. In this article, we've already defined MDR and explained the MSSP meaning, making it obvious that they offer separate scopes of services. To cut a long story short, another difference between MDR and MSSP lies in the response.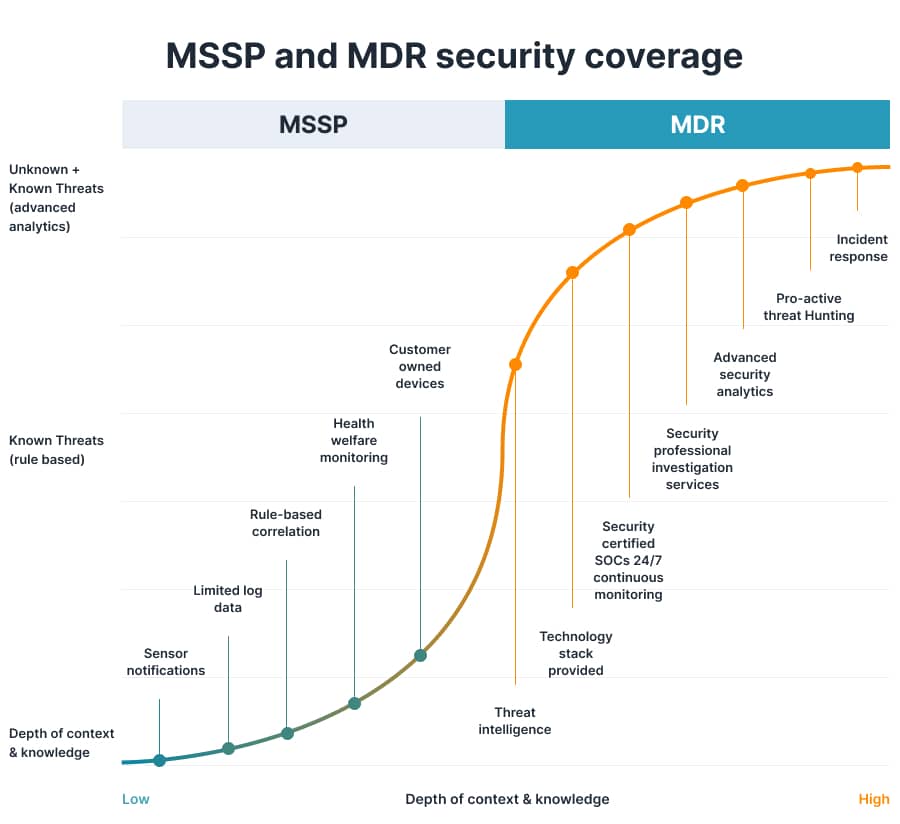 If a breach happens, the cyber security managed service provider notifies the customer and leaves the response to the customer's team unless other working conditions are prescribed in the contract. In this case, the alerting is reactive and includes information about indicators of compromise (IOCs).
On the other hand, managed detection and response providers leverage human intelligence and focus on proactive actions. So, experienced engineers perform threat hunting and monitor customer environments, seeking IOCs and indicators of attack (IOAs). And meanwhile, MSSPs provide limited or no response, complex response is at the heart of MDR security service.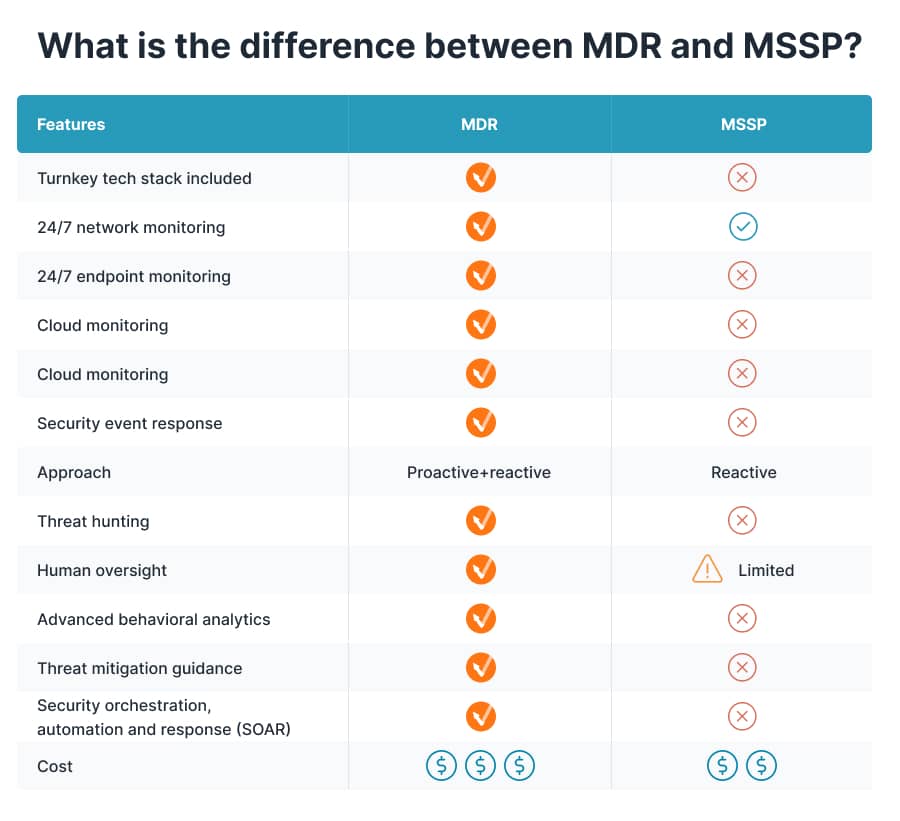 📌 An important note of caution:
The scope of services offered by MSSPs and MDR vendors varies from company to company. The table illustrates traditional MSSP and MDR scopes and may not include all the novelties and buzzwords. Meanwhile, some managed security service providers misrepresent their offerings as MDR to boost sales. Consequently, selecting a partner, read the SLA and fine print carefully.

For business owners and managers choosing between managed detection and response vs managed security services provider, there are several nuances that they should consider thoroughly. Especially if you are a small or mid-sized organization with limited budgets and an actively developing and maturing tech stack.
Opt for MDR if your company:
Does not have an internal security team or SOC to deal with alerts
Needs 24/7 continuous monitoring and quick incident response and remediation to keep business operations up and running
Cannot manage the suite of cybersecurity tools in-house
Cannot compete for and train the cybersecurity workforce
Requires solid customer data protection according to the law and/or compliance regulations and standards
Opt for MSSP if your company:
Has a fully-fledged in-house IR team or SOC
Needs to delegate only basic security tasks to a third party, like software updates or patching
Does not work with sensitive customer data, meaning that you have a faint digital footprint and a relatively low-risk profile
MDR vs managed security services provider: how to choose an effective solution for business
Your decision should depend on your existing capabilities, specific threat landscape, business goals, and desired security outcomes. Meanwhile, MSSPs come with a wide range of offerings and can provide a helicopter view of your security stance, they do not prevent or eliminate threats. MDR vendors combine human intelligence and technologies to go deeper into threat hunting and ensure a proactive approach to business protection.
Some companies decide to take the best of both worlds, partnering with a managed security service provider (MSSP) and using MDR service. By doing so, they try to strengthen each component of their cybersecurity program and protect each asset and surface. However, such an approach is not necessary and quite expensive.
In most cases, businesses select one option that better meets their needs and priorities. And it is important to note that various MSS and MDR providers offer different scopes of services, delivery models, and tech capabilities. So, read the service level agreement and fine print carefully, check references, and ask all the clarifying questions before making the decision.
You have the right to know
Get a detailed estimate of your business security scope and timeline
Ensuring 24/7 end-to-end business security with UnderDefense MDR
UnderDefense combines managed threat hunting and incident response experts with state-of-the-art technologies to predict, prevent, detect, and respond to the most aggressive and sophisticated cyberthreats of today and tomorrow.
We seamlessly integrate into the customer's existing security tech stack and manage it effectively 24/7. Our team proactively hunts for threats across all assets and surfaces, allowing you to focus on your core operations and revenue-driving initiatives.
So, with managed detection and response by UnderDefense you build and scale your business with confidence.
Why choose UnderDefense turnkey MDR
24/7/365 fully-fledged remote SOC
Quick and predictable deployment
Advanced algorithms protecting from zero-day threats
Various service packages for cost-effectiveness and transparency
5-star service according to client testimonials on Clutch and Gartner
So, have you decided which managed security service would be better for your organization? Contact us now and book a free consultation with our experts.