In a Nutshell
There isn't a single, correct response to the question "How much does SOC 2 certification cost" and there is no sustainable cost. Generally, SOC 2 preparation and certification is a complex process that takes a lot of time and requires financial resources. The entire cost of an audit, including any additional expenditures, can be in the tens to hundreds of thousands of dollars range and is influenced by a variety of factors. You must take into account each one when making decisions, no matter if some of them are under your control or not.
It should be highlighted that the entire cost of SOC 2 certification for SMBs might vary:
For SMBs <50 employees:

~$91000, the estimated duration ~ 7 months;

For SMBs 50-250 employees:

~$186000, the estimated duration ~ 10 months.
For your convenience, below you can find two tables with approximate estimations of SOC 2 expenses for different stages of preparation and for different company sizes.
SOC 2 Type I and Type II Certification Cost Comparison 🠕
Depending on the SOC 2 type you select, you will face various stages, expenses, and time frames. We will cover this topic in terms of SOC 2 Type I because it is more money and time-consuming and most of the work is done here since setting up all the procedures and putting all the tools into use requires a lot of work. SOC 2 Type II preparation takes 6-12 months to collect all evidence and demonstrate that the company has been compliant with requirements over this period of time.
Let's examine in more detail each of the certification's requirements, as well as any time and money requirements.
SOC 2 Type I preparation and audit may take:
Time: 3-6 months – up to 1 year
Total cost: approximately ~$91000-$186000
Notice:


The price already includes the engagement of an auditor, external consultant or your staff productivity losses cost (time spent, salary expenses, lost income), licensed software purchase and installation, penetration test, and security awareness training.
SOC 2 Type I evaluates a company's controls and attests to an organization's use of compliant systems and processes at a specific point in time. SOC 2 Type I indicates a snapshot in time, demonstrating that an organization is compliant at that moment. It describes the controls in use by an organization and confirms that the controls are appropriately designed and enforced and fulfill the required Trust Services Criteria.
SOC 2 Type I is mostly about documents and priority measures that need to be taken. If everything is OK and you have corrected the deficiencies identified during SOC 2 Type I, then you can apply for SOC 2 Type II.
After it is initially released, a SOC report normally remains valid for 12 months. You must conduct an annual audit to maintain SOC 2 compliance.
SOC 2 Type II preparation and audit may take:
Time: 6-15 months
Total cost: approximately ~$32000
Since SOC 2 Type II requires less preparation and is less expensive overall than SOC 2 Type I. SOC 2 Type II is about compliance with all written policies. For example, if you have a well-documented HR policy, and when an auditor comes to check, and you actually do not comply with everything or some things are still being improved, non-conformities will be written and compliance will be reviewed next year.
SOC 2 Type II basically includes everything that is part of a Type I report, along with the attestation that the controls are operationally effective and function as intended over some period of time (generally 6-12 months). SOC 2 Type II represents a cumulative perspective of compliance over time. Therefore, even though it's a far better indicator of compliance maturity, the audit itself is also more expensive.
Notice:


It is almost impossible to get SOC 2 Type II without passing SOC 2 Type I.
As you can see, SOC 2 Type I requires much more time to prepare for and conduct certification, and also requires significantly more financial resources.
In the following section, we`ll look into the details of what affects the ultimate cost of certification preparation and passing to clarify why it's all so expensive and what factors should be considered.
SOC 2 Certification Cost Breakdown 🠕
The total cost of an audit, including any additional costs, can range from tens to hundreds of thousands of dollars and depends on several variables. Whether or not some of them are within your control, you must consider each one when forming an opinion.
If the business is well-prepared, we can quickly determine this right away, thus reducing the cost. The numbers below represent, in a sense, the "worst-case scenario" and the most expensive options. But if everything works like an orchestra, preparing for the audit in about one month is entirely feasible.
The preparation steps are divided differently by different vendors, however, based on our expertise and experience in getting the business ready for the audit, we can state that there are 3 primary aspects to consider that influence the cost of the audit:
Pre-Assessment



Pre-Assessment Supervision
Software Licenses
Penetration Test
Awareness Training

External Audit
Fixing Gaps Until SOC 2 Type II Audit
We will focus only on the first two (Pre-Assessment and External audit) steps because they create the base for the third step.
Time: 3-7 months
Cost: 50% FTE or 3d party vendor – $36000-$62000
Performed by: CISO, internal project owner, 3rd party vendors
You can prepare for the audit independently and assign a member of your staff as the Project Owner. But, keep in mind that due to the complexity of the tasks and the preparation process that requires understanding of all business procedures, a C-level management representative will need to be involved. In other words, without the engagement of C-level management as well as your organization's internal experts even the hired consultant will not be able to handle this task. You must also consider the employee's remuneration as well as any prospective losses in company revenue brought on by the employee's departure from the main working process.
It is generally preferable to employ an external consultant whose responsibilities will involve pre-assessment and implementation and who will take up to 80% of the overall load off of this person if you are unsure that you can afford it (for a variety of reasons such as lack of knowledge, time, or other resources).
Pre-Assessment involves the following stages:
Pre-Assessment Supervision

Software Licenses

Penetration Test

Awareness Training
1.1. Pre-Assessment Supervision
At this stage, the person in charge must communicate with the business owner and decide on the applicable Trust Service Criteria that depend on the type of business.
Run initial gap analysis to understand what needs to be improved or fixed

Run interviews with people in charge and collect information about what is available and what is missing

Collect all available documentation and other tangible evidence

Based on the previously collected information, prepare and deliver a pre-assessment report with included high-level gap mitigation roadmap

Supervise Gap-mitigation process

Preparing the documentation that was missing (writing SOC 2 Policies, SOPs, risk assessments, BC/DR plans, etc)

Establishing procedures described in SOPs (Special Operation Procedures) and generating, collecting, and storing tangible evidence of it

Supervise fixing technical gaps (endpoints, networks, clouds, etc.)
It's important to note that SOC 2 compliance requires more than just having policies in place. Organizations must also implement and enforce Policies and Procedures that document the way the organization defines and meets its goals around cybersecurity management. Policies outline how you protect customer data, while procedures explain how you do it. Documenting policies and undergoing formal reviews, with employee participation and acceptance, is crucial for maintaining consistent security measures and proper handling of customer data. This documentation process may be time-consuming but serves as a valuable training tool and can help protect organizations from legal action or employee fraud.
You may want to consider working with a qualified auditor to ensure that your policies and procedures meet SOC 2 requirements.
It is best and most cost-effective to engage with a company that specializes in this to accurately articulate the policy as opposed to hiring a CISO, which would be significantly more expensive.
Not all compliance platforms offer security policy templates and sometimes they are incorporated into the price of audit preparation assistance. However, at UnderDefense we decided to create open-source SOC 2 policy templates that include best practices and make them free of charge. They can be used as models or as a starting point for modifications to fit the needs of your business. Additionally, we can offer you the assistance of our experts to walk you through this process. We hope it will reduce the stress of SOC 2 and point your business in the right direction.
SOC 2 Policies Preparation May take:
Time: 1,5-2 months
Cost: approximately $4000-$7000
Performed by: CISO, internal project owner, 3rd party vendors
Our advice:
If you already have all the required data, filling up the templates could take up to 2 weeks.
Keep in mind that this data should be collected, thus you must conduct interviews first. The knowledge gained from a single interview may theoretically apply to multiple policies. In addition, after entering all the data, you must go over the policies with the interviewees once more.
We can take the burden off your shoulders and offer you free access to SOC 2 policy templates which can save you up to $7000 Basically if you have all the necessary data, you can tune the policies so that they match your company's needs. Of course, there are a ton of policy templates online, but you never know if the auditor will accept them. We can guarantee that our policies are reliable because they have already been through SOC 2 examinations.
Save up to $7000 and a month's worth of time!
Use these templates to decrease the additional costs of SOC 2 certification
1.2. Software Licenses and Installation
Software Purchase and Installation may take:
Time: 2-3 months
Cost: ~$12000-$60000
Performed by: CISO, internal project owner, 3rd party vendors
The scoped service is frequently delivered with the assistance of multiple applications or business functions which would raise your anticipated cost. This can include security incident and event management (SIEM) tools, vulnerability scanners, password managers, anti-virus software, network security devices, and other native services provided by your cloud service providers. To manage the environment's security, for instance, the price might comprise backend software, a database, infrastructure, and multiple IT teams. It might also include management staff who process, judge, and report information. However, if you'd like to delegate the tasks and responsibilities mentioned above, you can apply for our Managed Detection and Response Service or Network Security Assessment.
The complexity increases if all of this is done differently due to various regulatory restrictions in each place. The price of the licensed software is a separate cost item, but if installation is required, it is also covered by the cost of services.
Our explanation is much simplified, and it is important to note that the software mentioned is just one integral part of a larger cybersecurity system. The implementation of a comprehensive cybersecurity system is crucial for protecting sensitive information and digital assets from unauthorized access, theft, damage, or disruption.
If you would like to find out more, you can refer to a great chart from NATO that provides a helpful overview of various cybersecurity systems. You can use it as a resource to gain a better understanding of the various components that make up a comprehensive cybersecurity system.
Complex Penetration Test may take:
Time: 1-4 weeks
Cost: $8000-$25000
Performed by: 3rd party vendors
You'll also need to budget for penetration testing that can assist in identifying potential vulnerabilities in your defenses as you get ready for your SOC 2 audit. You will be able to evaluate the vulnerabilities in your apps, network infrastructure, and physical security barriers through various tasks carried out by security professionals. There will be expenses involved with the penetration test for your firm, regardless of whether these professionals are internal or contracted from a third-party company.
Our advice:
Conducting a penetration test according to SOC 2 is not mandatory to pass the audit. But keep in mind that CPAs usually want to review your pentest results. You can fail the certification if you do not have a report conducted during the preparation for the certification or during the year. Therefore, we strongly recommend having a penetration test report to obtain a SOC 2 certificate.
Security Awareness Training may take:
Time: 3-5 days
Cost: $6000-$9000
Performed by: 3rd party vendors
It is a necessary added expense to be taken into account. You should start offering annual security awareness training, either internally or through a third party; in either case, there will probably be a cost. Someone will need to ensure that everyone in the organization attends the training and approves of getting it.
External Audit may take:
Time: 3 months
Cost: $20000-$30000
The auditor arrives and performs the audit at the predetermined time. You might get preparation advice from the auditor as well. The cost may vary when selecting between different CPA firms as your auditor and the price will be determined by the brand reputation and popularity rather than its size. The benefit of working with stronger players is the awareness of their brand, but beware—this glamor will cost you. A less popular business will have just as capable auditors and might be far more reasonably priced.
Stage 3. Fixing Gaps Until SOC 2 Type II Audit
This stage involves the remediation of nonconformities found or detected during the SOC 2 Type I audit.
The certification needs to be renewed annually. To obtain SOC 2 Type II you need to confirm that you have corrected all the deficiencies found during SOC 2 Type I marked as nonconformities by providing the auditor with evidence.
Additional Factors That Affect SOC 2 Certification Cost 🠕
The overall cost of SOC 2 certification may as well be impacted by the following elements:
To focus on SOC 2 preparation, you might need a software engineer, a data scientist, a legal specialist, and a technical writer. Your team will inevitably have less time to work on other initiatives as it focuses on obtaining compliance. This might lead to a reduction in overall productivity.
It is crucial for the company to determine whether to hire more staff. It is quite expensive because, in the worst-case scenario, remediating from Type I to Type II can take up to a year, consequently, the approximate cost will be equal to the annual salary of a specialist. Also, several specialists may be required, depending on the size of the company. As an alternative, involving a third party helps to reduce costs significantly.
Most organizations simply take into account the primary audit-affecting factors, but in light of our experience, we want to draw attention to a few issues that can substantially slow down the audit preparation and passing process:
Time management – failure to fulfill assignments on time, delaying completion of projects for an extended length of time
Communication management

– difficulties finding a person who can communicate problems within the organization; vCISOs are forced to spend 80% of their time on communication within the company and only 20-30% on the implementation of some tasks. Your audit will be more affordable if you can make your methods more consistent.

No person committed to the process – nobody working for the organization is prepared to oversee the entire process and, if required, use their power to accelerate it (whether it is software installation or any other task)
Reviewing contracts with clients, suppliers, contractors, and workers will cost you some money in legal fees. These agreements' data protection rules may affect how audit-ready they are.
Review all customer agreements, vendor and contractor agreements, and employee agreements with your lawyer. These agreements will lay the groundwork for duty delegation, enabling you to express your confidentiality, privacy, and security policies. With every audit, you might need to review these. Consider that this will be a recurring SOC 2 expense.
Approximate SOC 2 Type I Compliance Cost for SMBs 🠕
We are going to provide a description and approximate calculations to clarify the situation and give you a rough understanding of what to expect when you decide to achieve SOC 2 certification. Based on our experience, we will present all calculations using the SMB as an example.
Notice:


Estimation disclaimer on cost, duration, and scope of such projects based on the average market: We cannot set the exact price for the audit stage since various auditors may charge differently for their services.
SOC 2 Certification Cost for SMBs with Up to 50 Employees
The approximate budget breakdown for SMBs with up to 50 employees might be around 91000$ which can be seen in the table below.
Pre-Assessment Supervision
* the duration and expenses can vary
SOC 2 Certification Cost for SMBs with 50-250 Employees
The approximate budget breakdown for SMBs with 50-250 employees might be around 186000$ which can be seen in the table below.
Pre-Assessment Supervision
* the duration and expenses can vary
SOC 2 Type I Audit Preparation Timeline 🠕
The total time to complete SOC 2 Certification could vary between 6-10 months depending on the size of your organization. Take a look at the timelines to estimate the approximate time needed to finish the project.
SOC 2 Certification Timeline for SMBs with Up to 50 Employees
In the best situation, when the Project Owner and your team work in a synchronized and accurate way, SOC 2 Audit for SMBs with around 50 employees could be finished in 3-6 months.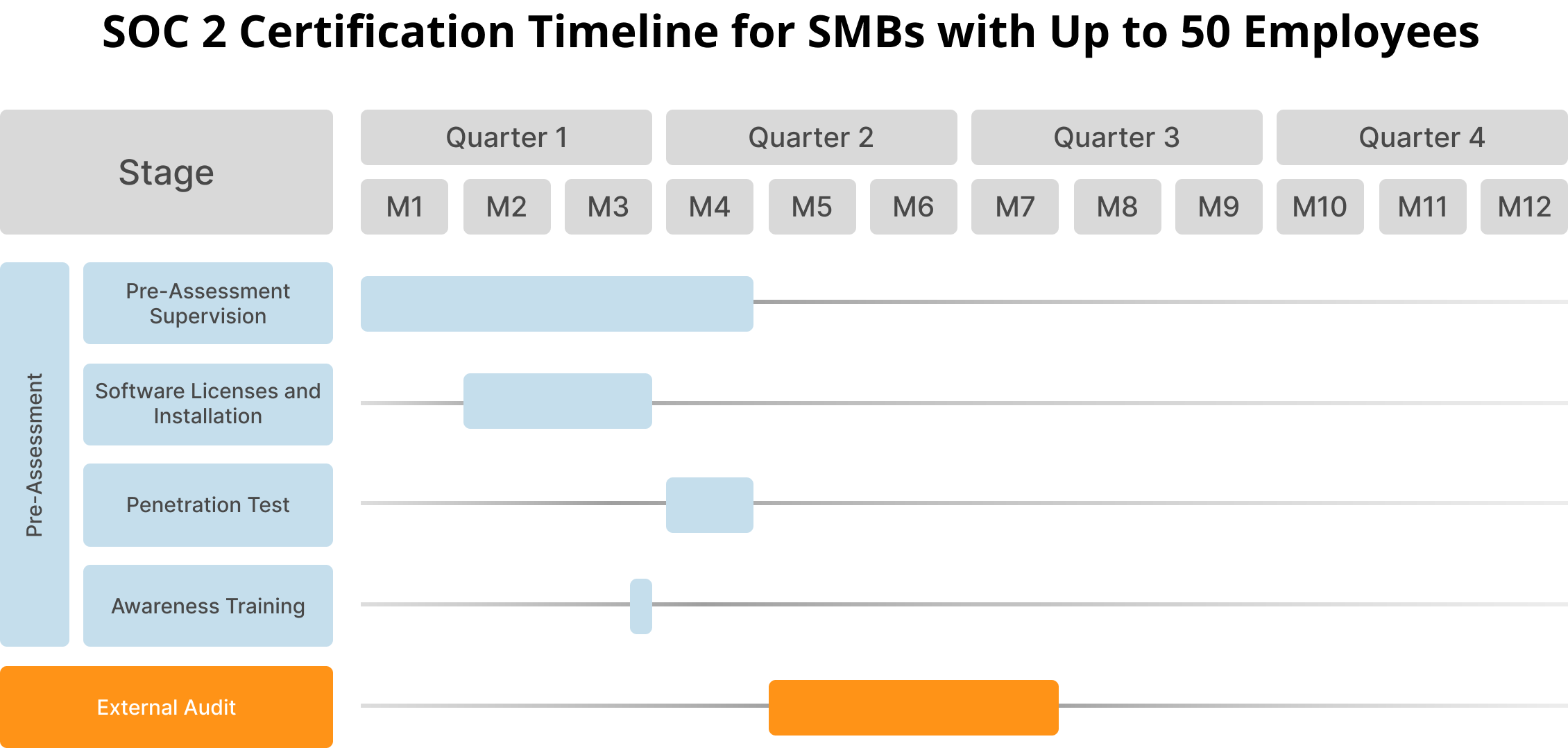 SOC 2 Certification Timeline for SMBs with 50-250 Employees
In the best situation, when Project Owner and your team work in a synchronized and accurate way, SOC 2 Audit for SMB with around 50-250 employees could be finished in 9-10 months. Most of the time will be spent on Gap Analysis Stage to define the missing points because of the size of an organization.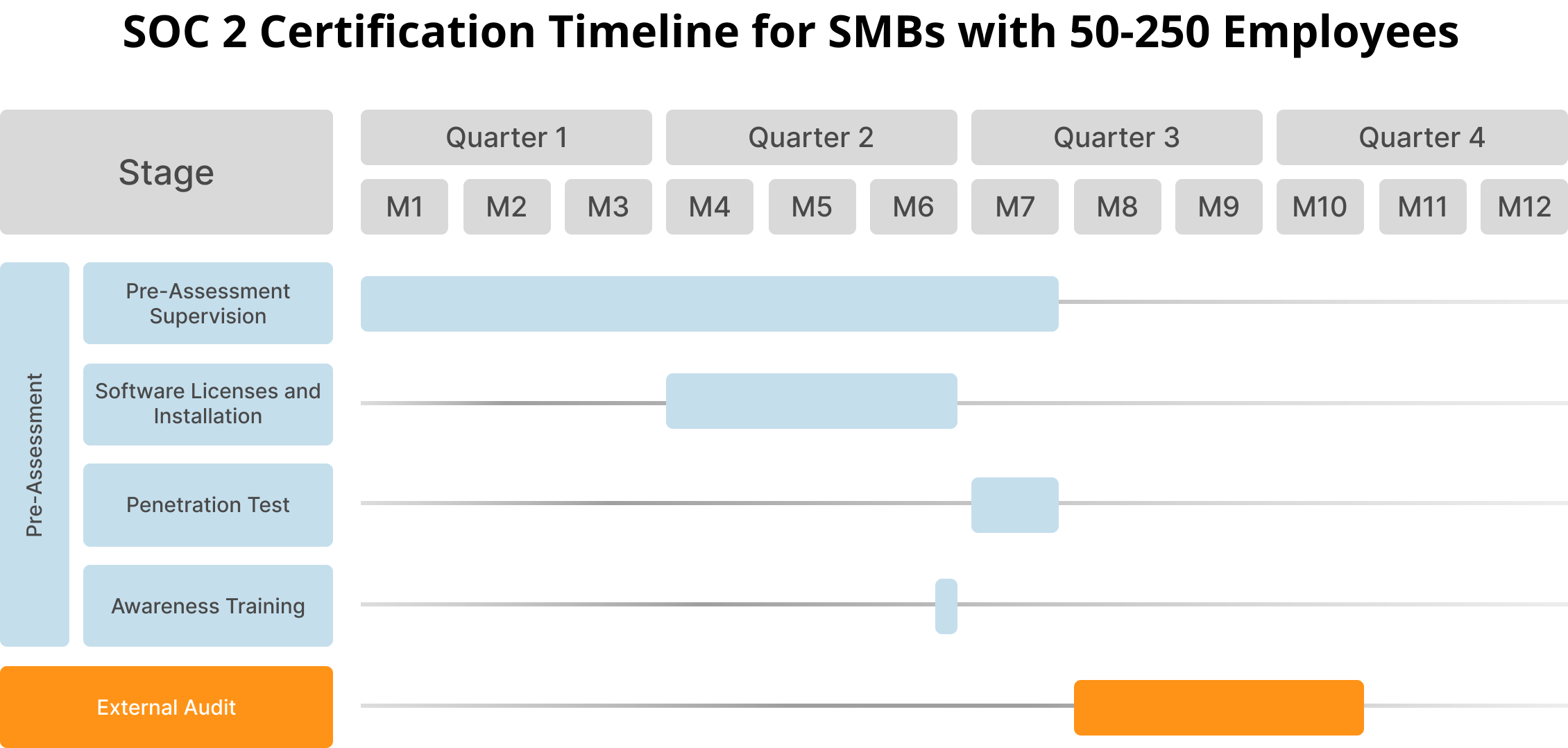 Does It Make Sense to Prepare for SOC 2 Audit on My Own? 🠕
Independent Preparation for Certification:
If you are confident in your abilities, you can attempt to prepare on your own; consulting services are not necessary in order to obtain certification. Yet it can have a substantial impact on the amount of time needed for preparation and the likelihood of passing the certification at the first attempt. You can prepare on your own, but we must remind you about the potential hazards and challenges involved.
| | |
| --- | --- |
| | |
| Cost-cutting (not guaranteed): you avoid hiring consultants and prepare everything by yourself. However, you must consider the amount of time that your staff will be focusing on preparation, rather than actual business operations. In any case, you will have to appoint the Project Owner, it may be someone from C-level, and it might be more expensive than an external contractor. | You may lack the necessary resources (people, time, and knowledge of what has to be done) |
| | People who are not doing it professionally will require more time and will need to put in more effort, while considerably slowing down on the other tasks |
| | You must still pay for the audit regardless of whether you pass it because the auditor does not refund the money. (In this case, total SOC 2 Compliance Cost will include – time for preparation + money + time and money spent on repeated preparation and audit) |
Preparation for Certification With an InfoSec Consultant:
Seek outside advice and engage qualified experts, such as the vCISO, who have been around the block so many times and will scrutinize all the details.
| | |
| --- | --- |
| | |
| Better comprehension, planning for, and navigating the challenging duties involved in getting ready for these audits | Finding a reliable contractor who will carefully watch each stage is challenging, so before selecting one make sure to conduct your research |
| Expert assistance at all stages and with the implementation process | Additional expenses that are usually justified by the fact that the rest of your staff is not draining on their main tasks |
| Certification success is guaranteed | |
Ready to Be Audited? Become SOC 2 Certified with UnderDefense 🠕
UnderDefense is there to assist you if you have deadlines or if you are not willing to take the chance of not achieving a certification. We will do our share to ensure that you pass the certification the first time by giving you a "reserve" of knowledge.
UnderDefense provides cost-effective cybersecurity compliance services tailored to your organization's needs, helping you achieve your certification goals efficiently.
We will help you to handle all that is needed to get SOC 2 compliant:
Conduct a Readiness Assessment

Define the necessary Trust Service Criteria

Build a detailed Roadmap

Adapt and prepare SOC 2 Policy for your organization

Get specialists who will help at every stage of certification preparation (vCISO)

Choose software that will meet the certification standards and will help you install and configure it

Conduct Security Awareness Training

Conduct a Penetration Test if you have not done it yet

Decide on the auditing company

Close SOC 2 security monitoring requirements by providing SOC (Security Operations Center) service
By hiring a qualified virtual chief information security officer (vCISO), you can avoid much of the stress and tedious work, save time, and cut costs.
Get advice on passing the certification by contacting our sales department. We'd be happy to assist you anytime and share your joy after achieving SOC 2 Certification!