In a remarkable showcase of prowess, UnderDefense's elite team secured a distinguished 4th place out of more than 185 participating teams in the highly competitive Boss of the SOC challenge by Splunk. The challenge, a blue-team rendition of capture the flag, tested the mettle of our MDR team as they adeptly tackled intricate event data and alerts under intense time constraints.
At the heart of the Boss of the SOC competition lies a series of security-related scenarios demanding varied levels of expertise. Participants are measured not only on their precision but also on their celerity in resolving challenges. The pinnacle of this contest is the BOTS scenario, which tasks contenders with retracing the intricate path leading to a cybersecurity breach while gauging the scope of compromise incurred.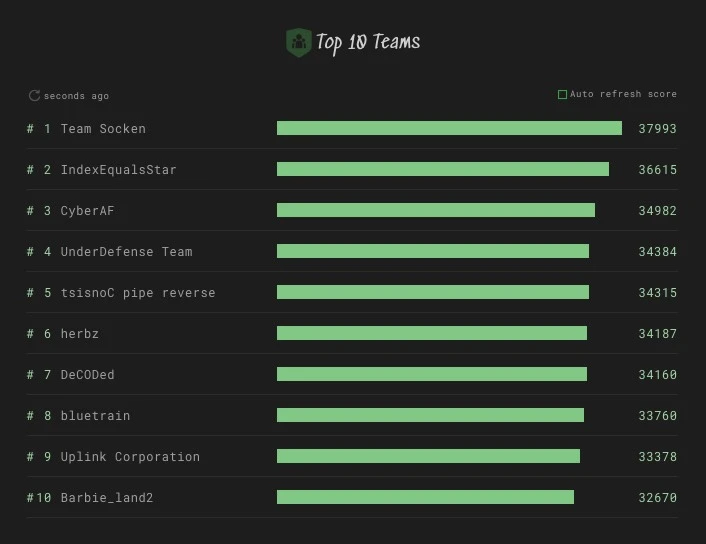 "Our team's profound and extensive cybersecurity acumen empowers them to effectively harness any tools at their disposal, even when operating under the most strenuous time pressure," said Andrew Hural, MDR Director at UnderDefense.
The Boss of the SOC challenge not only provided a platform for UnderDefense to showcase its proficiencies but also to unveil its aptitude for pinpointing, investigating, and mitigating genuine cybersecurity incidents within the virtual SOC landscape. The team's adept security analysts leveraged their comprehensive understanding of real-world security breaches, coupled with their investigative acumen, to promptly unearth vital clues within the logs and expediently respond to the posed queries. The collective triumph of our dedicated MDR specialists—Anna Bondar, Maxym Varnakov, Marian Melnyk, Volodymyr Bohdan, Mykyta Bakalets, and Dmytro Biletskyi —illuminates our collective pride and the monumental achievement they've accomplished.
UnderDefense's ascent to the 4th place in the Boss of the SOC challenge underscores not only our collective technical adeptness but also our tenacity in the face of formidable challenges. This accomplishment serves as a testament to our perpetual pursuit of excellence within the cybersecurity realm.