Why petroleum companies get shut down|Oil & Gas security
New edition of UnderDefense Vlog with the main topic Oil and Gas security! In this video you'll find tips for Petroleum companies on how to prevent cyber risks, discover threats that can make business blow, and use-cases of cyber attacks that led to serious data compromisation and loss.
Over two decades, Chris Fair, works in the Oil and Gas industry to maximize their productivity and advise the right direction in their business development. Watch this insightful video and find out how oil and gas industry works and what shortcuts shall never be made. 
 "In the Oil &Gas industry, the historic priority of CIOs and IT managers has been security" states Chris in the CIO Review. He is deeply concerned that security and analytics are the key success factors of Oil & Gas companies. 
Chris Fair, passionate and experienced, President of Oilfield Data Services Inc. specializes in an automated reservoir and production engineering surveillance, and optimization with the solution: Well Analyzer.
Cybersecurity is our core expertise. Let's get in touch and you will learn more about how UnderDefense can benefit your organization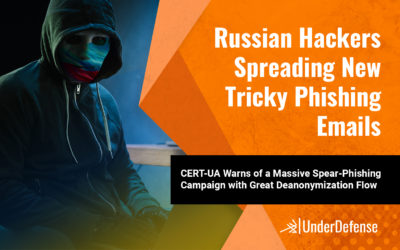 Russian Cybercriminals "Armageddon Group" Spreading New Tricky Phishing Emails with Great Deanonymization FlowOn April 4, 2022, the government emergency response team of Ukraine CERT-UA has warned of a massive spear-phishing campaign launched by a hacking group...
read more
Do you have any questions?
Please leave your contact below and we'll get back to you shortly.