Nick Bilogorskiy who has recently headed Trust and Security department at Google, exclusively for #UnderDefenseVlog has given an interview about his career path in cybersecurity. His CV includes such big companies as Fortinet, SonicWALL, Facebook, Juniper, and now Google.
Nick Bilogorskiy has started his career in Malware analysis and Threat Hunting. He co-founded and later on successfully sold a company named Cyphort, that has such well-known clients like Netflix. After Cyphort was acquired by Juniper Networks, Nick started to build client relationships to understand customers' needs in a better way and was in charge of developing cybersecurity strategy competing with Cisco. Then he worked as a Malware Analyst at Facebook with Mark Zuckerberg, protecting his and his family accounts from being hacked.  
Nick is also an angel-investor at 408 Ventures  that helps start-ups build a successful business. Also he co-founded Nova Ukraine a non-profit organization that supports the awareness about Ukraine in the US and throughout the world and provides humanitarian aid.  
Podcast Host: Nazar Tymoshyk
Guest: Nick Bilogorskiy
Cybersecurity is our core expertise. Let's get in touch and you will learn more about how UnderDefense can benefit your organization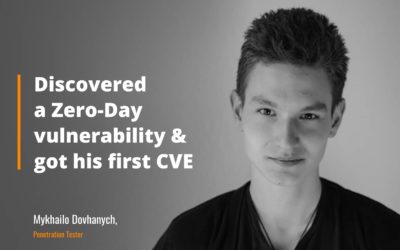 Mykhailo Dovhanych, 21, our Pentester has become a local celebrity. He made the digital world a bit safer by discovering a Zero-day vulnerability and getting his first CVE. We asked him a couple of questions to learn more about this exciting story: UnderDefense: What...
read more
Do you have any questions?
Please leave your contact below and we'll get back to you shortly.