Introduction
In this article we are going to describe the process of connecting Cisco FirePower Threat Defense with Splunk in case of using Cisco Firepower Management Center.
First of all, we are about to share some notes about preparation to this task. When the necessity of log collection from Cisco Firepower appeared, guys who did it before said that it was a really difficult task. There was an add-on which was written in Perl and during the configuration process you received too many errors and had no idea how to manage it. But when we started reviewing possible methods, we found new opportunities to provide this.
So let's review possible methods of sending logs from Firepower Threat Defense to Splunk. There are two variants: through syslog and through eStreamer.
If we are talking about Cisco Firepower syslog configuration, firstly of all it's not very reliable way to send logs. Even Splunk doesn't advise you to use it, if there is another way in place. On the other hand we should manually create all necessary alerts via Cisco Firepower Management Center. And as we read on forums, if we use syslog there, less dashboards will be riched by default.
[Explore an Educational Hub with answers to the trickiest questions. Subscribe to UnderDefense YT channel and receive a resource with practical knowledge sharing]
The other way is sending logs via eStreamer. When we firstly heard about this methods, there were many problems with perl modules, and other technology which was used by the Splunk estreamer Add-on. Let's have a closer look at eStreamer.
The FireSIGHT System Event Streamer (eStreamer) uses a message-oriented protocol to stream events and host profile information to the client application. Your client can request event and host profile data from a Defense Center, and intrusion event data only from a managed device. The client application initiates the data stream by submitting request messages, which specify the data to be sent, and then controls the message flow from the Defense Center or managed device after streaming begins. More details you can find here. The other feature of using this method is that communication between devices is encrypted over SSL.
That's why there are many recommendations to use estreamer protocol for log collection instead of syslog. So we are about to share our experience of configuration log collection based on estreamer protocol.
First of all we found the Splunk Add-on for eStreamer. There are two versions:
As we deal with Cisco Firepower andFirepower Management Center version 6.+. We start working with second add-on which was written in Python.
There is one important thing here that FTD and FMC should be in one network as Splunk with eStreamer add-on. Here could appear one interesting thing, if you have installed Splunk in the cloud (such as AWS, Azure, Google Cloud) and have an office, which is located in a business center where your local network is hosted behind the NAT with one white IP address for many companies. Your Splunk wouldn't have the possibility to communicate with your device directly.
There are two possible solution methods here:
The first one is to organise Destination NAT, or port forwarding on core router for your 

Firepower Threat Defense

appliance. But we haven't tested it, so maybe it won't work.

The other one is to create Splunk Heavy Forwarder in your corporate network where was the possibility for add-on to access FTD and FMC devices directly.
As we understand the version of Splunk Cisco eStreamer eNcore add-on and app (the new one) is developed for second scenario. Because the add-on installs on the heavy forwarder and provides only log collection, the other part is eStreamer eNcore app for Splunk which provides log transformation, data model log mapping to CIM, and consist of many dashboards for monitoring.
So let's go to some configuration. On the picture below we describe how the possible infrastructure looks like.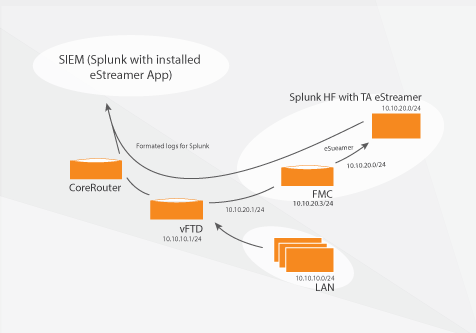 Installing and configuration of a Splunk Add-on
Prerequisite
Before the start, we should have configured Splunk Heavy Forwarder. In our case, we have installed it on Ubuntu server, because Cisco eStreamer eNcore add-on works only on Linux systems.
We should check if all required packets and libs are installed. They are:
python 2.7
openSSL(pyOpenSSL)
If it isn't in place you can simply install it using your packet manager.
After that, we are going to download eNcore add-on http://apps.splunk.com/app/3662 and install it on HF.
You must have a valid PKCS12 file for your Splunk server. Once you have the PKCS12 file you must rename the file to "client.pkcs12" and place it on the Splunk server here:
$SPLUNK_HOME/etc/apps/TA-eStreamer/bin/encore/client.pkcs12
This will require some form of SSH, SCP or console access to the server.
Firepower Management Center configuration
Let's describe the process of creation the key for eStreamer on Firepower Management Center. For that go to your FMC and navigate System->Integration -> eStreamer check out what type of events you want to log and save.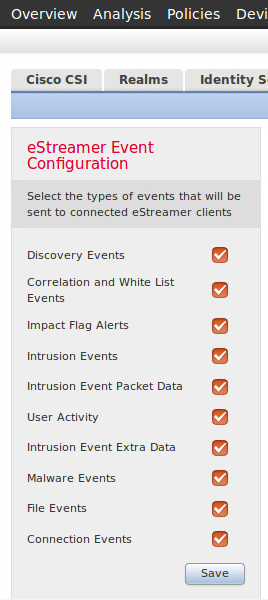 After – click
Add client
button.

On the next page add IP address of your Splunk server and any password – remember it, because you will need it later.

After that you should save your *.pkcs12 file. And add it to the Splunk add-on path on heavy forwarder.
Next visit Splunk web face. Before making any further steps be certain that all necessary inputs are enabled. Go to the Settings -> Data inputs:
In File & directories check $SPLUNK_HOME /etc/apps/TA-eStreamer/data is enabled.

After that go to the Script and check that all script inputs from TA–eStreamer app for Splunk are enabled.

If all the necessary inputs are enabled, the next step is to navigate to the Apps management, find eStreamer aNcore add-on and click Set-up.

You will see the configuration window where the following steps should be provided
Add your Firepower Management Center IP address.
Check out the box near Process PKCS12 file and type your password from the previous step.

Define what data should be collected.


If you have received an error
"Encountered the following error while trying to update: Error while posting to url=/servicesNS/nobody/TA-eStreamer/encore/configure/main"
go to Troubleshooting Example 1 and provide all described steps.
Installing and configuration Splunk eStreamer eNcore App
The eNcore eStreamer app for Splunk has to be installed on the Search Head. You can complete that through web interface and App management by installing from Splunkbase directly or from file on your local computer.
Make sure that you have created indexer named as estreamer.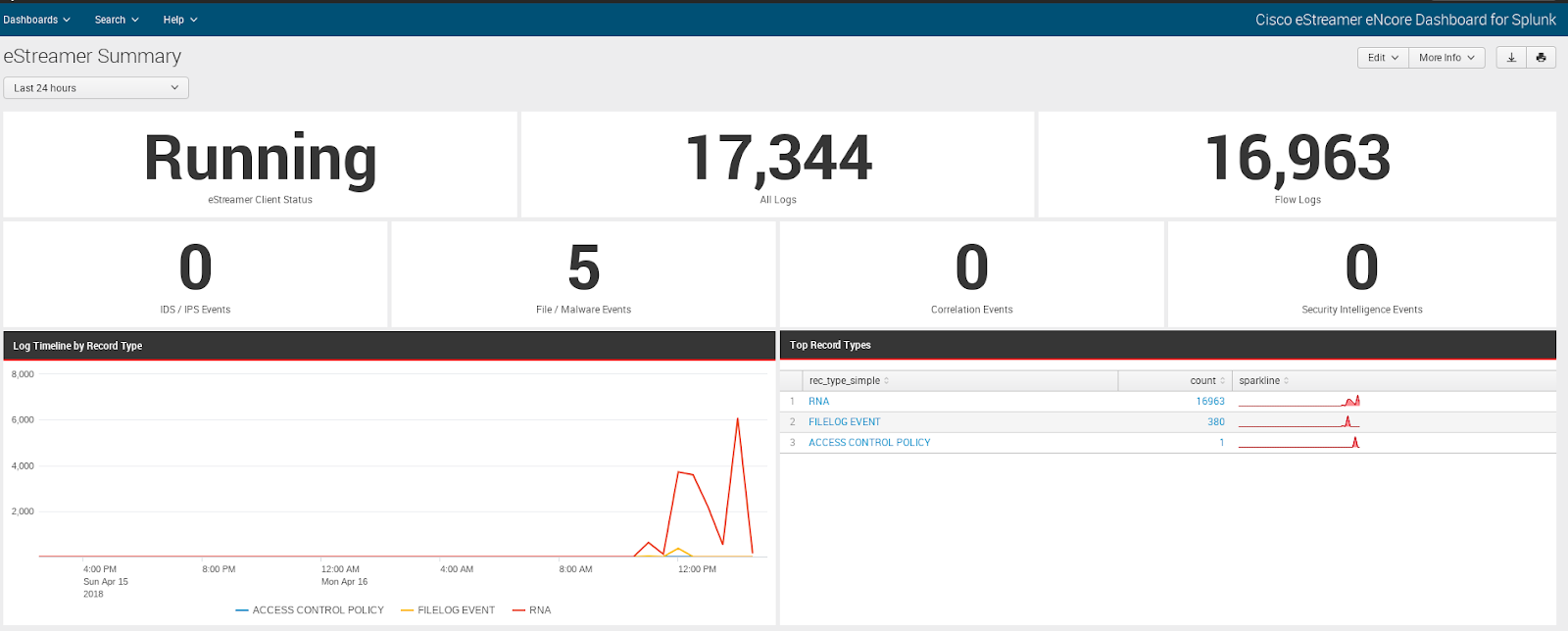 https://underdefense.com/msi-packages/https://underdefense.com/msi-packages/The app provides you with many useful dashboards so you can easily use them for your needs. It's possible that you could have some problems with data model mapping to CIM. If it's necessary, you can look out to Example 2 where we provide the solution for how to fix that.
[Let's get in touch if you want to learn more about UnderDefense trainings and services, and receive updates with educational content]
Summary
In this article, we try to clarify the process of connecting Cisco Firepower Threat Defense with Splunk for log analysis and event correlation with events from other devices in the infrastructure. We describe different methods of log collection, define the pros and cons of them and provide the instructions how to do that using eNcore eStreamer Add-on and App for Splunk. Moreover, we describe troubleshooting of probable errors which could occur during the configuration process.
Read more articles from UD team on:
Windows Event Collector orchestration
Troubleshooting
Example 1
Make sure your certificate file is named client.pkcs12
Check if the addon scripts are enabled  on your Splunk HF:
Go to the:
/opt/splunk/etc/apps/TA-estreamer/bin/
Open the configure.sh script
Here could be the problem with basepath at #SPLUNK_HOME variable don't work.
You should replace the raw:
basepath = SPLUNK_HOME/etc/apps/TA-ESTREamer …
with next raw:
 basepath = /opt/splunk/etc/apps/TA-ESTREamer …
 like in the picture below
Then change the line 20:
to
exec >>configuration.log 2>&1
Rerun the setup process – manually run this script

tags.conf and eventtypes.conf have different event type names so for propper mapping you should change event type names in tags.conf
To provide that – replace "-" with "_"
And finally your files have looks like on the picture below.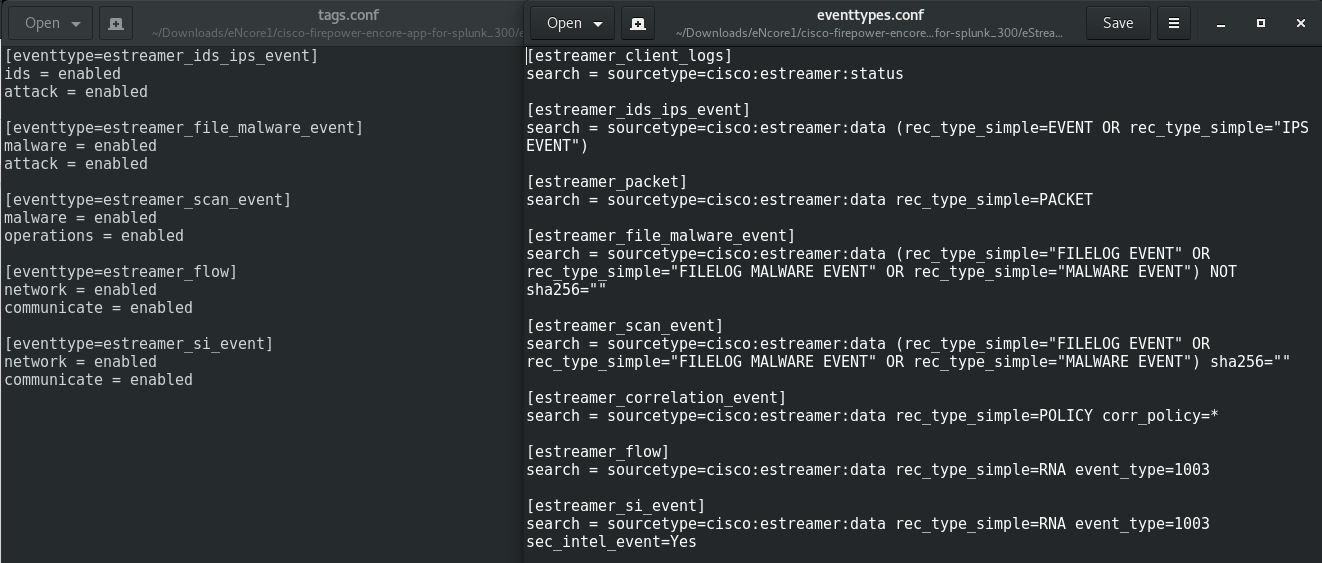 To install new version of the Search Head archive previously change folder eStreamer-Dashboard and upload it to your Splunk Search Head with rewriting existing app, or previously delete old version of the app.
To check the result navigate Data models, find Network Traffic data model and open Pivot. But previously edit the constraints in Network Traffic data model

especially search macros that are used in constraint.
For that go to Advanced Search-> Search macros
Find the cim_Network_Traffic_indexes macros edit it and add "OR index=estreamer" to the search statement.
Open The Networh Traffic datamodel in the Pivot add to filter sourcetype=cisco*. And you should receive any result. Or can visualise smth, like in the picture below. 
Cybersecurity is our core expertise. Let's get in touch and you will learn more about how UnderDefense can benefit your organization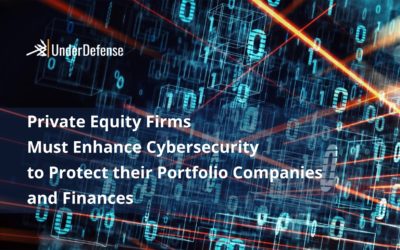 There is no end to Cyber Risk so go into battle with the best... Risk for 400M or WHY we talk about it Recently, one portfolio company of a big Los Angeles PE firm paid $400M in bitcoin as Ransomware to attackers for decrypting their systems and getting back to...
read more
Do you have any questions?
Please leave your contact below and we'll get back to you shortly.