The growing number of cybercrime reports and surveys proves that hackers are slowly shifting their focus. Let's face it, large enterprises, healthcare institutions, and financial organizations are not their only target anymore. They are switching their attention to, what they call, easy prey, including small and medium businesses and individual employees. And unfortunately, we need to admit that they succeed here. As a result, 76% of SMBs experienced at least one cyberattack in 2022, a significant increase compared to 55% in 2020.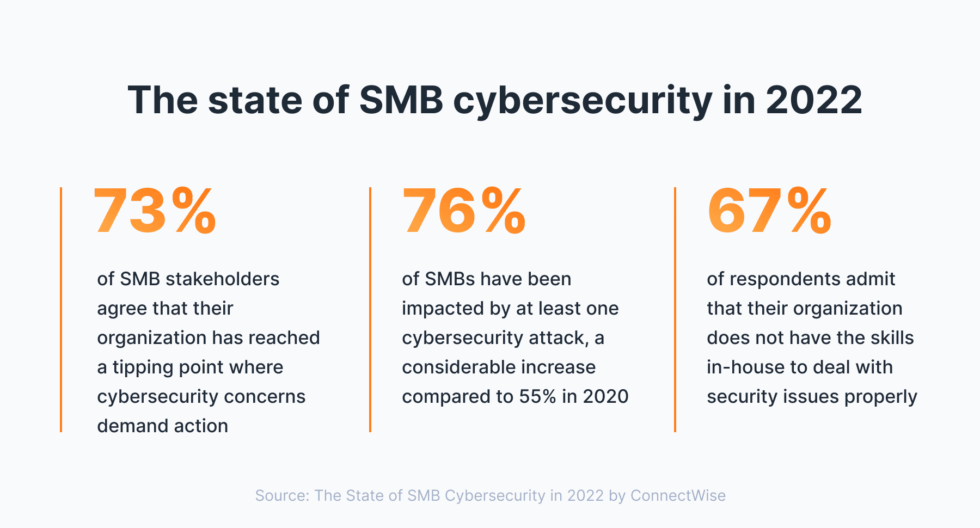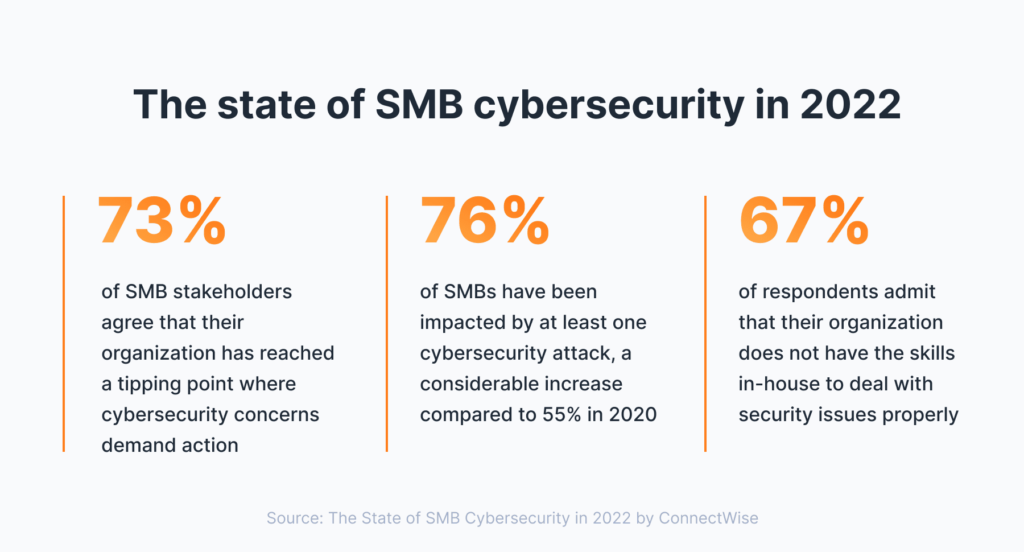 So, why is this happening? The truth is that the cybersecurity needs of small and mid-sized companies have been underserved compared to large businesses. Admittedly, such a situation opens the way for cybersecurity service providers and tech vendors. However, to take advantage of this window of opportunity, they must reconsider and change their business and marketing strategies, including pricing, packaging, remote-selling techniques, channel strategies, and more.
And meanwhile, providers are wondering, "Is it worth the trouble?" SMB owners are thrown upon their own resources.
So, let's see what other challenges are putting small and medium companies to the test.
Need 24/7 business protection and have no clue where to start?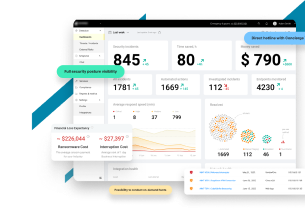 Challenges and cybersecurity trends for small business
1.Lack of cybersecurity personnel
In trying to build the best cybersecurity for small business, 63% of IT decision-makers admit that they don't have enough resources in-house. Small and quickly growing companies like yours often have limited teams with too much on their plates. So, you must prioritize carefully to optimize your time, resources, and money. Consequently, such a shortage usually hinders your ability to ensure the necessary level of protection and introduce the required changes or recommendations.
2. A constant threat posed by surrounding enemies
With the global shift to remote work, the threatscape has started to grow at lightning speed. Over the past 12 months, SMBs in the United States suffered eight attacks on average. Meanwhile, 79% of decision-makers agree that cyberattacks have increased. At the same time, IT security teams are expected to do much with limited resources. And unfortunately, having a basic cybersecurity toolkit for small business is no longer enough to prevent disruption. That's one of the main reasons why having a trusted cybersecurity provider is vital.
3. Ransomware becomes more severe and sophisticated
Ransomware is top of mind for most organizations, and the rise of ransomware-as-a-service is another contribution to the global concern. Today, we are witnessing and dealing with ransomware attacks that are far more sophisticated than several years ago. Meanwhile, malware has become smarter and harder to detect for separate, automated security tools.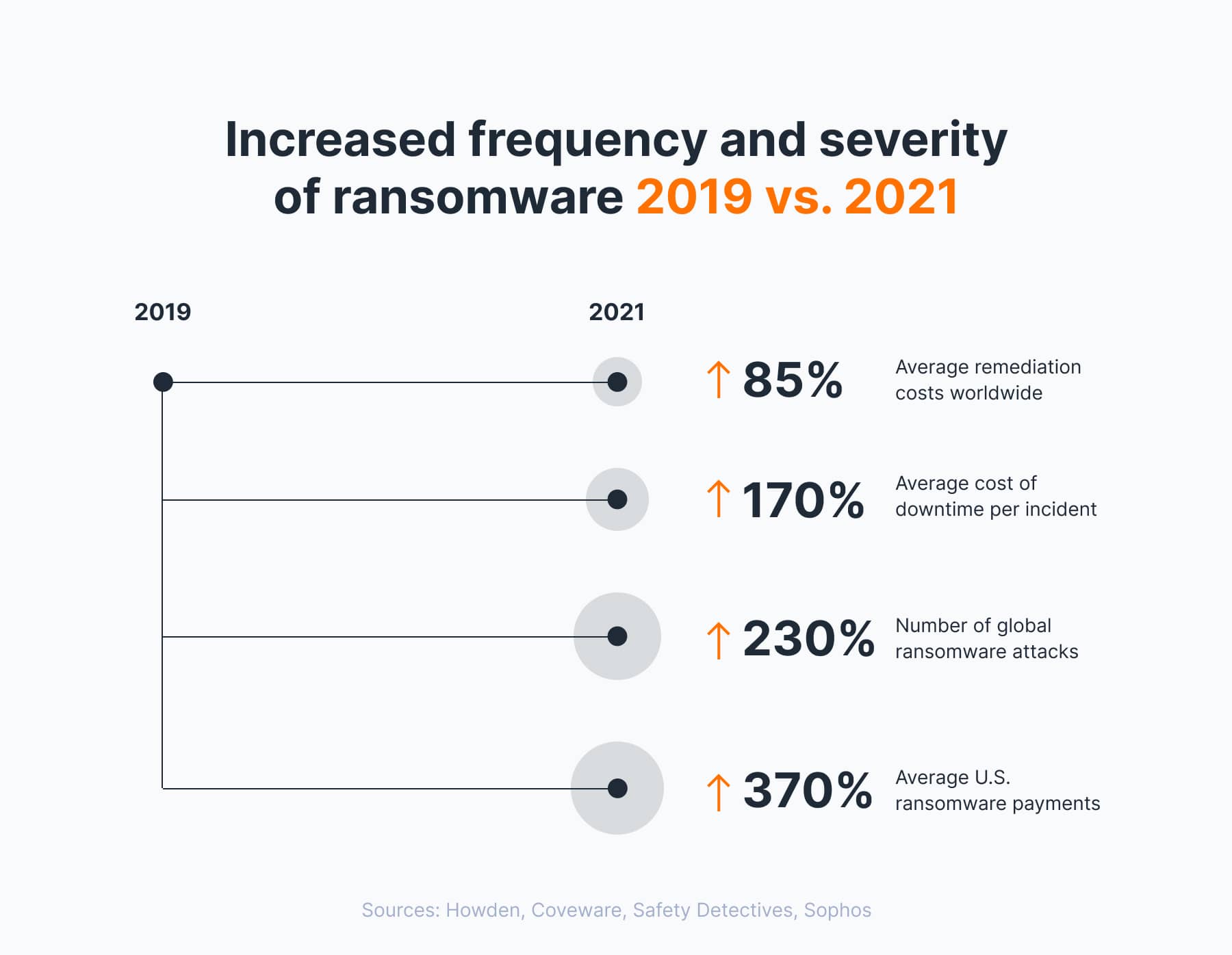 But despite that, only three of ten small and medium companies have an effective IT disaster recovery plan in place.
4. IT/MSP teams overwhelmed by routine tasks and customer support
Today, most internal IT security teams have their hands full with managing corporate cybersecurity and protecting their organizations against threats. They're having a difficult time because so much is coming at them and so few resources to deal with it.
5. Poorly- or non-configured security tools leading to alert fatigue
The ever-evolving and aggressive cybercrime landscape forces IT security leadership to act quickly and follow an ad-hoc approach, making siloed tooling decisions and not adjusting the entire strategy. Such a way of doing things deprives leaders of sleep because they realize they don't have the right level of protection and a reliable cybersecurity plan for small business.
It can take one email for your company to come from "Woohoo!" to "D'oh!"
Tackling the root causes with cybersecurity tips for small business
All the issues mentioned earlier become a great problem for SMBs willing to grow and work with enterprises. Why? Because a poor security posture makes small companies a weak link in the supply chain of enterprises. Additionally, getting and maintaining critical security compliance may become a daunting challenge hindering growth and discouraging employees.
So, what can business owners do to avoid that? You need to build not only basic protection with cybersecurity tools for small business but a mix of a cyber-aware culture, relevant technologies, and well-established processes. In this case, your defense will effectively respond to evolving risks and scale with your company.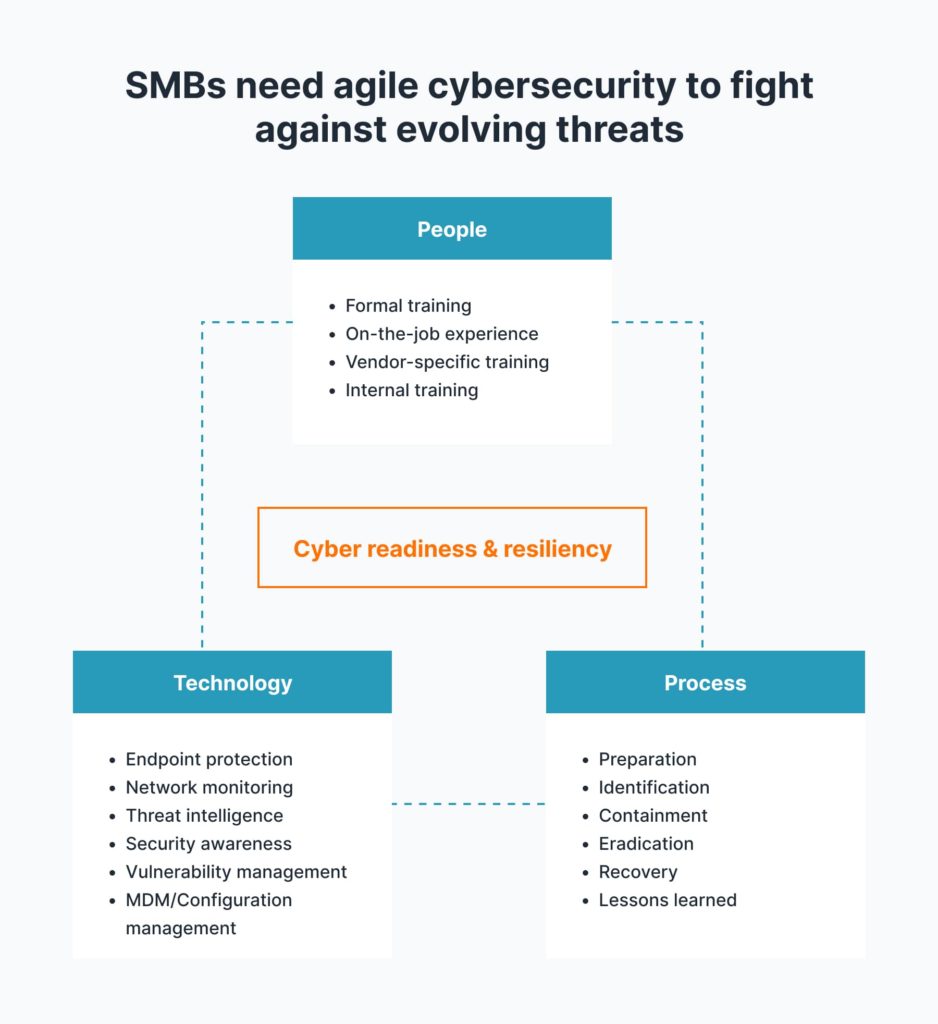 Meanwhile, with internal operations and employee training the situation is clear; the abundance of cybersecurity tools for small business may be confusing. What services and solutions are the most effective for medium and small organizations?
Cybersecurity software for small business: tools and technologies to ensure security and compliance
The truth is that many effective cybersecurity services for small business are already built into bigger solutions you've bought from Google or Microsoft. However, many small and medium companies don't know about that, so they don't activate and utilize those features.
That's why we've created a list of the top 10 cybersecurity solutions for small business, including some free options and commercial players. Those tools will help you create a basic security posture and scale it according to your needs and goals as your company grows.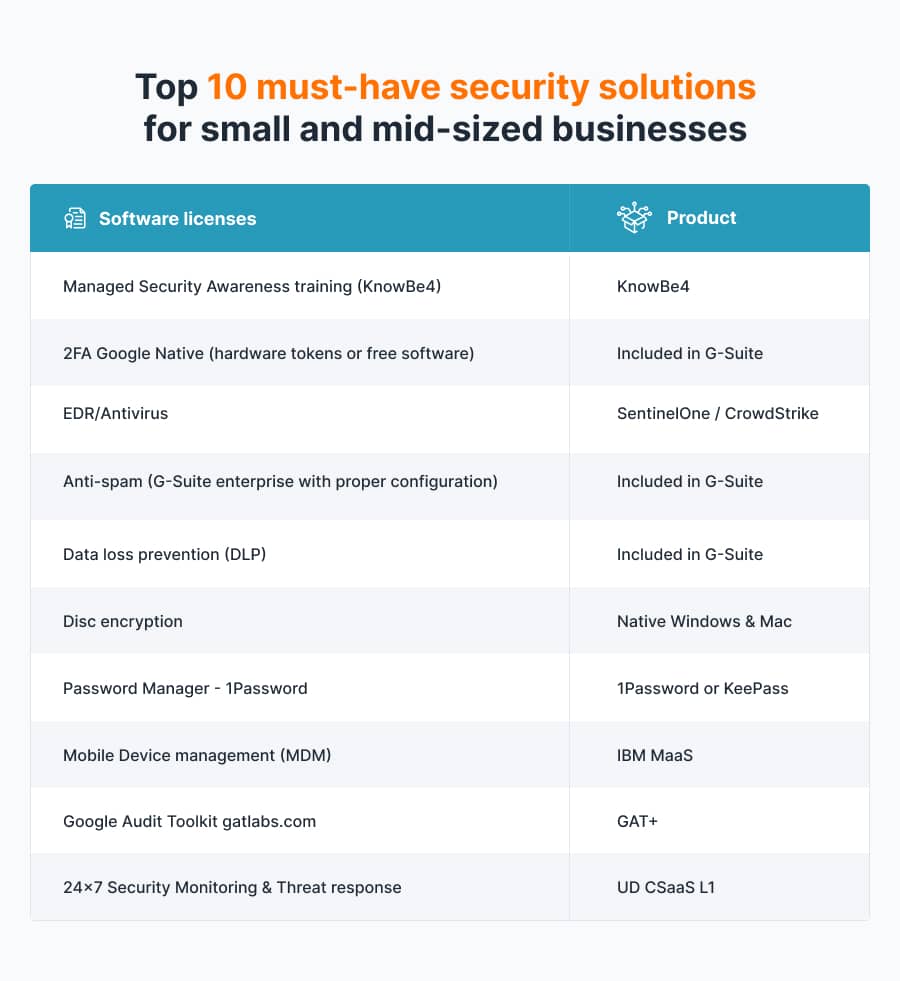 However, don't focus on siloed painkillers for your business protection, blindly following trends or ads. Otherwise, with too many disjoined cybersecurity tools for small business and endless switching between multiple consoles, you risk becoming a victim of alert fatigue and burnout.
We recommend focusing on the overall cybersecurity plan for small business and acting carefully step-by-step. But most importantly, don't forget about skilled staff who are vital for proper software functioning. In our experience, we've witnessed many cases when companies invested in powerful solutions like CrowdStrike or Splunk and got breached just because the platforms hadn't been integrated and configured correctly. So, be sure to have a reliable team to help you select, deploy, fine-tune, and consolidate new products into a strong security perimeter.
Cybersecurity tips for small business: how to start building a good security posture
When should you start working on a solid basis for on-prem, hybrid, or cloud cybersecurity for small business? In most cases, c-level managers start researching and investing in business defense when they aim to obtain ISO 27001 or SOC 2 compliance certifications because it is one of the prerequisites for working with enterprises and winning lucrative deals.
You can start earlier and build your infrastructure secure by design. However, most companies lack domain knowledge, skills, and resources at this stage. Moreover, they stay busy validating their ideas, promoting business, and attracting investment.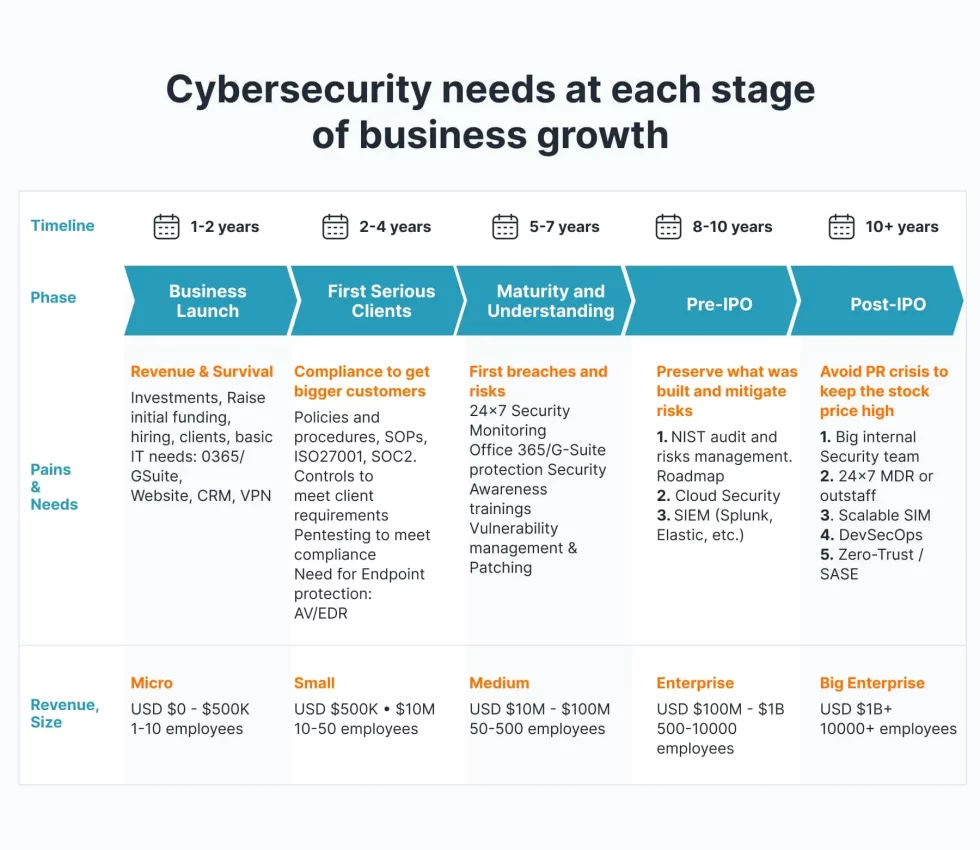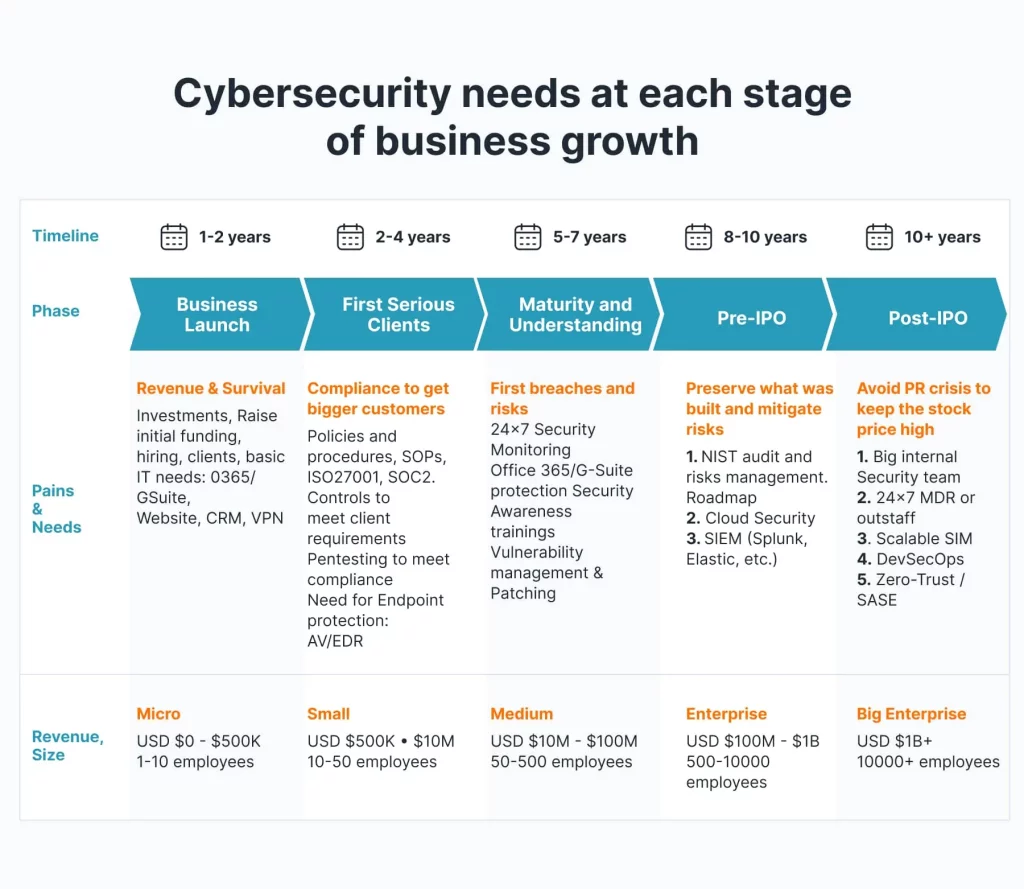 And if you are at the stage where you already need penetration testing and preparation for a compliance audit? We know that the first step is the hardest. With such a variety of cybersecurity services for small business, making a choice only gets more difficult. Cybersecurity consulting and training are widely available but are chargeable and often include standard practices that don't work for all.
That's why we've created a cybersecurity checklist for small business. It is a brief transformation program with approximate timelines and steps you should take to make your company secure. You can use this scheme to analyze where you are on your cybersecurity journey and what elements you are missing to move to the next maturity level.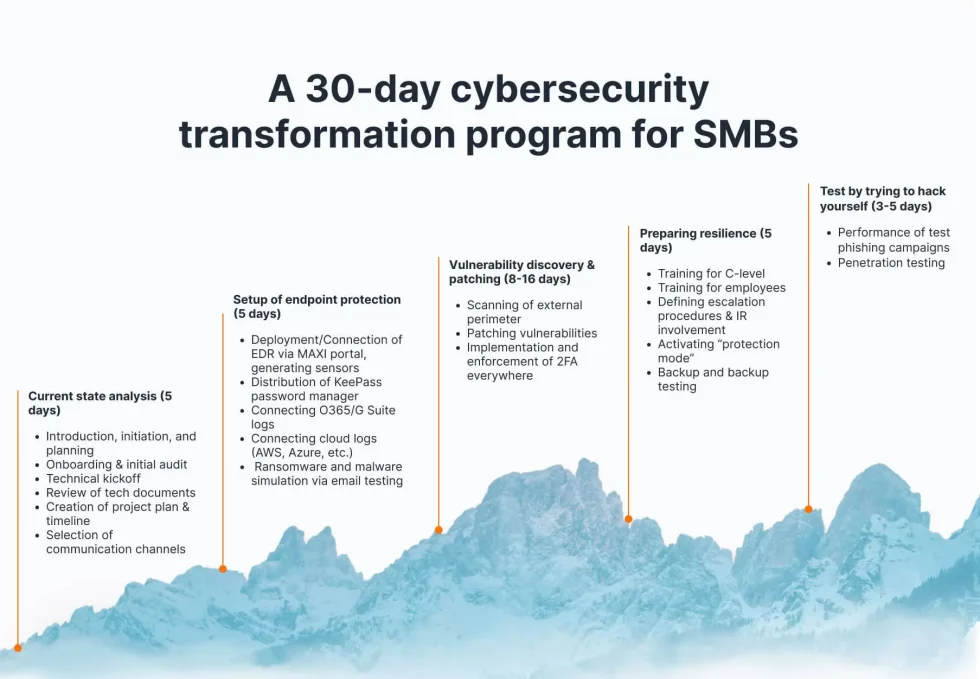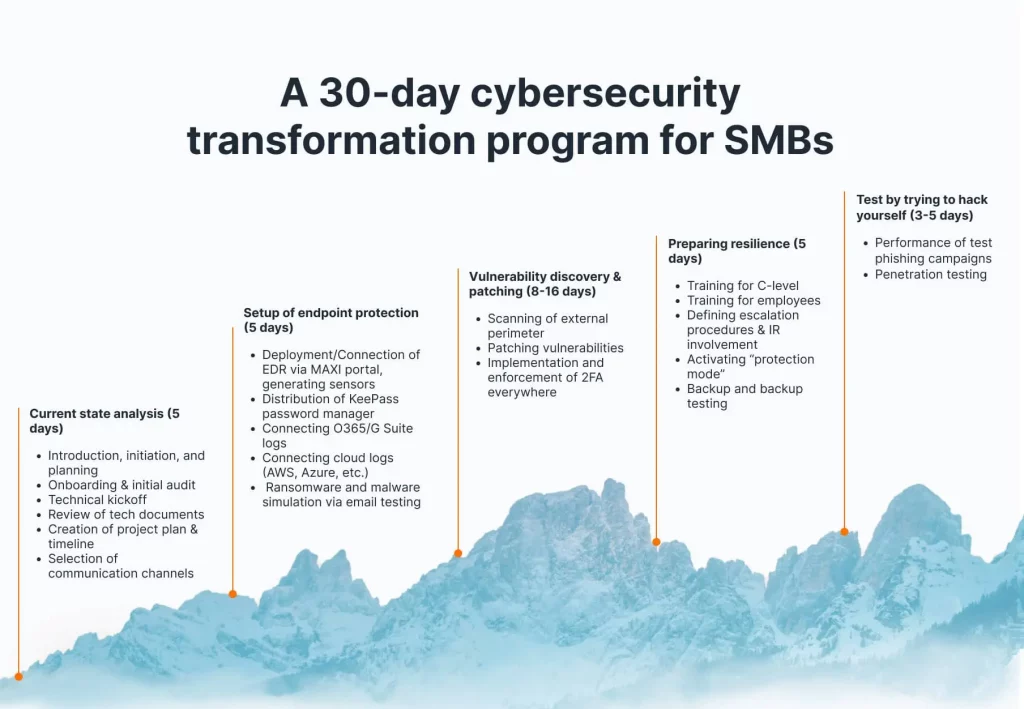 With this transformation program, you can keep the cost of cybersecurity for small business as low as possible by doing all the checks and integrations on your own. If you have a trusted security ally, you can ask them to work on the tech aspects and review the results after each stage of the plan.
At UnderDefense, we believe it doesn't matter how you will protect your organization, just get it done. We recommend improving business defense and employees' security hygiene to prevent your company from becoming a cyberattack statistic.
Today, investing in cybersecurity for small business is not an option but a vital necessity. Having properly-configured, interconnected, and effective tools in place can not only help you detect and stop any hacking attempts early on. But such an approach could save you $4.35 million because it was the average cost of a data breach in 2022.
Disclaimer: The text of the article is based on the security webinar presented by Nazar Tymoshyk, CEO at UnderDefense, and Carlos Fernandes, CEO at ACS.
You have the right to know
Get a detailed estimate of your business security scope and timeline