Managed Detection and Response
MDR
Not all MDR solutions are created equal. Get complete 24/7 control across your environment, leverage the full potential of the tools you already own, and respond to threats faster with automation with MDR by UnderDefense.
Get a Demo
Why we are different
UnderDefense seamlessly integrates into your existing security stack and manages it efficiently and effectively 24/7.
We proactively hunt for threats across your cloud, on-premise, and hybrid environments regardless of scale and complexity.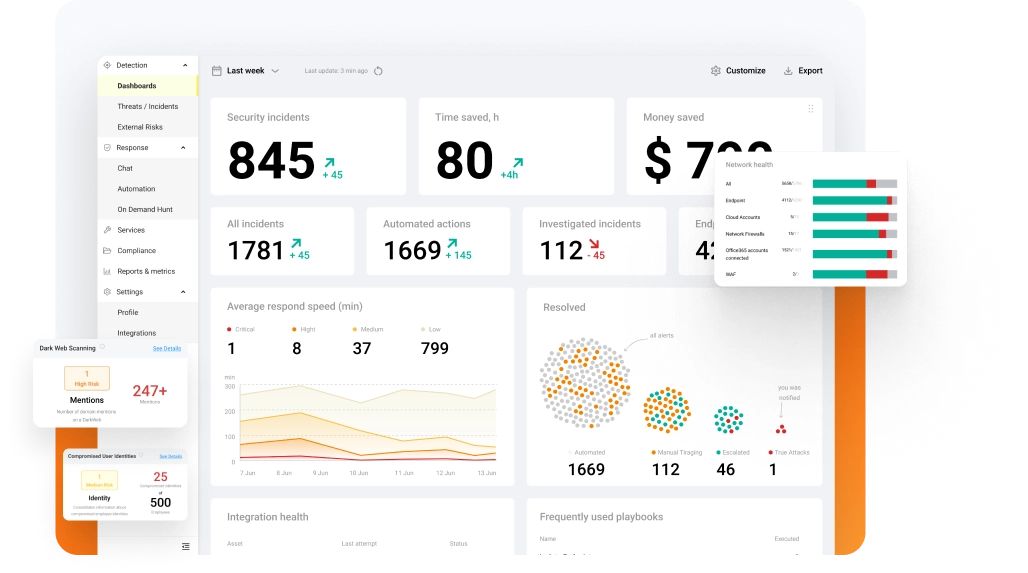 Challenges you face on your way to 24/7 business protection.
Now solved
Lack of human resources
Limited budgets and unclear pricing
Misconfigured tools
Overloaded with false positives team
Neutralize threats in minutes, not hours
Speed up your response to all types of cyber threats—both known and unknown—using our in-house built threat response prioritization engine. Benefit from a robust set of detection and correlation rules, seamless process automation from immediate detection to efficient remediation. Make use of our custom playbooks for a smoother, more efficient threat response strategy.
Get a Demo
Build better, faster, and easier cybersecurity with
UnderDefense MDR

solutions
24/7 continuous business protection across all environments
UnderDefense's Managed Detection and Response services protect clouds, networks, endpoints, apps, SaaS, and critical data, allowing you to focus on your core operations and revenue-driving initiatives.
UnderDefense MAXI platform to resolve incidents faster with automation
Get full security posture visibility, direct hotline with SOC, possibility to conduct on-demand hunts and dynamic reporting on vulnerabilities, operational security at your fingertips at any time.
Intelligent use of tools you already have
We meet you where you are and continue your cybersecurity journey together. Our managed MDR services can run on tools you already own and add necessary solutions on the go. We take care of data synchronization and do that automatically for you.
Advanced flexibility in cooperation models
Our MDR service is customized to the specific needs of your company: whether you need an extension to your existing SOC, a turnkey service, co-managed SIEM service, or assistance in building a SOC from scratch, we are there for you.
Cutting-edge in-house developments
MDR service comes with well-established processes, proven technologies, and in-house developments that make cybersecurity easier and more affordable for our clients. Those innovations include a custom app for Splunk Auditd logs, a base of unique SIEM correlation rules, best practices for strengthening GSuite and AD/AzureAD platforms, and more.
Expert-driven threat hunting and mitigation
Our experienced threat hunters not only deal with existing threats but also dig into the root cause and offer personalized guidance on preventing such issues in the future. We proactively detect security incidents that may go unnoticed by automated tools and act faster and more effectively than popular market players.
Talk to an UnderDefense Expert
How it works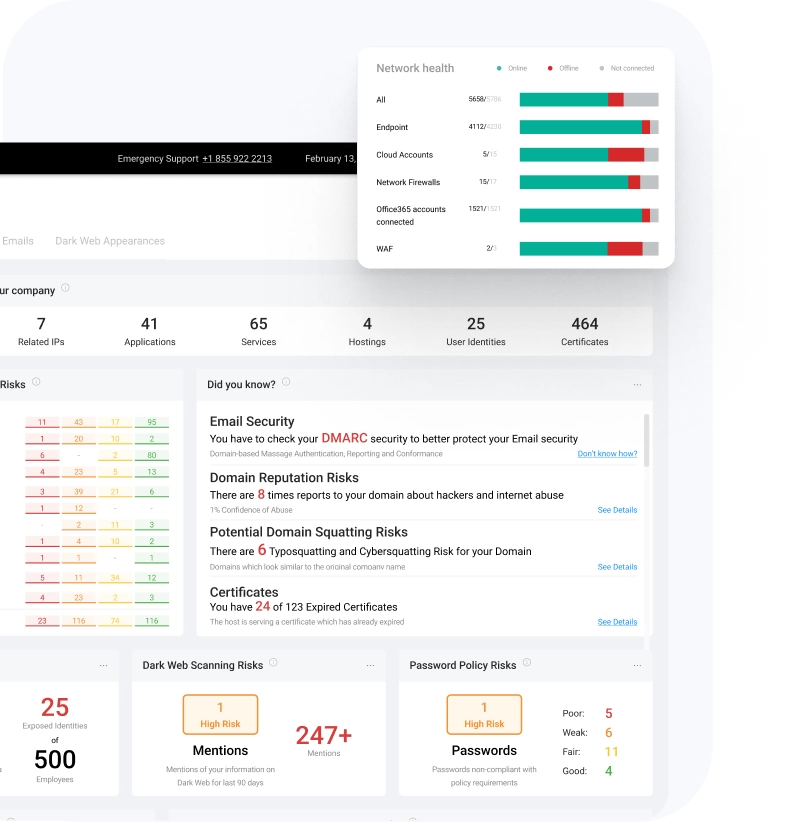 Get full transparency and control with UnderDefense MAXI platform
Check what our SOC team sees and how they are protecting your business against advanced cyberattacks
Have absolute control over your environment settings
Use pre-defined or create custom incident response playbooks
Get expert advice 24/7
Assess your cybersecurity effectiveness and create informative reports for the management team
All-in-one MDR security for all your environments and assets
Gain exceptional visibility of your growing hardware ecosystem, namely servers, laptops, desktops, tablets, and other devices.
Ensure continuous security of all your cloud workloads and containers, including GCP, Google Suite, Office 365, Azure, AWS, etc.
Leverage content and domain filtering to protect your organization and employees from malicious internet-based events.
Why 500+ companies
have chosen UnderDefense
"Immediate value. Very professional approach.
Fast, efficient, and easy to work with."
— These are just a few phrases business leaders use to describe their experience with UnderDefense.
Read more stories from our customers and find out why organizations call UnderDefense mission-critical to their cyber protection.
Best CyberSecurity Provider 2022
on Clutch
Splunk Boss of the SOC 2022
out of 184 teams
Average rating on Gartner Peer Insights for MDR Services
Frequently asked questions
What is managed detection and response (MDR)?
Managed detection and response (MDR) services are a set of endpoint-, network-, and host-based technologies that an external cybersecurity company manages for the customer. A third-party threat detection and response team may either provide its own selected technologies or utilize the ones that the customer already has in place. Finally, a security MDR provider augments the tech suite with additional automated services to protect all the data and assets.
How much does the managed detection and response services (MDR) cost?
The cost of cybersecurity MDR services varies and depends on several factors like your company size, security goals and roadmap, the level of your cybersecurity maturity, business risk profile, budget estimates, and more. Contact our sales team and get a free quote for managed threat detection and response services aligned with your specific needs.
What is the UnderDefense MAXI platform?
UnderDefense MAXI is a holistic security-as-a-service platform built for businesses of all sizes and maturity levels. It's a SECaaS powerhouse for your EDR, SIEM, cloud, compliance, automation, network visibility, remediation, and absolute cybersecurity control. It augments you with managed threat detection and response services and allows you to protect your digital ecosystem efficiently 24/7.
How do I purchase the UnderDefense MAXI platform?
UnderDefense offers a freemium model. You can start with a sign-up and get immediate access to many valuable features, including:
360° security assessment


Forever-free certification kits


AWS cloud security assessment


On-demand threat hunting


But we don't stop here. UnderDefense MAXI grows with you, supporting you at every step of the way. Benefit from a modular, fully integrated suite of cybersecurity solutions and add advanced tools for your end-to-end business protection on the go. Create your free account today and see where better and easier cybersecurity happens.
As an MDR provider, what data will you see in my environment and have access to?
As a company that offers cybersecurity and MDR consulting services, we use metadata and telemetry. It means that all the data we see from the client's side is exclusively related to network or system performance. As a cyber security MDR provider, we don't process, store, and have access to any personally identifiable information (PII) and other sensitive information, unless the client requires it.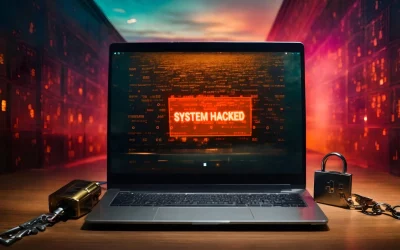 In 2022, 83% of organizations experienced at least one data breach. These statistics published by...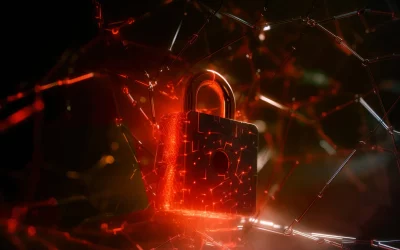 Ransomware Attacks Double: Prepare Your Organization for 2024's Threats in 6 Steps by...