Risk for 400M or WHY we talk about it
Recently, one portfolio company of a big Los Angeles PE firm paid $400M in bitcoin as Ransomware to attackers for decrypting their systems and getting back to business. The whole 4.1B business was put at stake. This happens even more often when it comes to fast-growing technology companies. And no one is 100% immune, as the recent Uber case has shown.
Historically, cyber security has always come last and Private equity (PE) firms never used to give cybersecurity a high priority because their main focus has always been on deal performance, but NOWADAYS EVERYTHING HAS CHANGED.

The NEW reality is that cybersecurity risks and breaches are now a worry for any organization, especially for those that are growing or handling significant amounts of cash or storing critical data. Of course, private equity firms are no exception and are even becoming a sweet target now.
External IT/Security consultants and portfolio CIOs are often good drivers for positive transformation, as it is critical to have a consistent level of risk management. And smart PEs and VCs are reconsidering their ideas and attitudes toward cybersecurity as a whole due to their increased knowledge of potential risks to the portfolio companies and various business activities as well as the necessity of cybersecurity applications.
Adding to the challenge, CIOs at private equity firms are hampered by a lack of visibility into all their portfolio firms and a lack of control. Defensive tools across their portfolio companies are almost always inconsistent.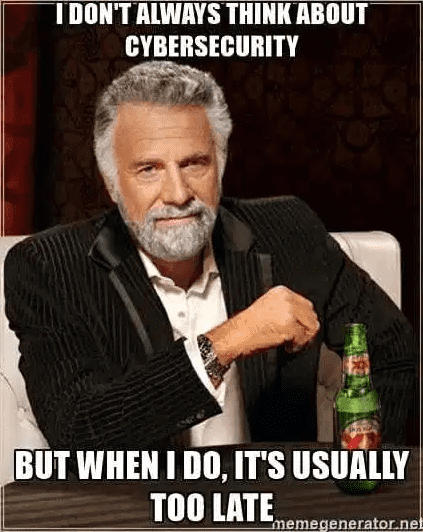 Things to keep in mind:
Portfolio firms tend to be growth-oriented and don't invent risk mitigation, which makes them easy targets.
PE firms are a prime target for more sophisticated and audacious cyberattacks since they have access to significant amounts of capital and engage with third parties often. The hackers select big fish since they know that they are willing to pay whatever amount to avoid a scandal.
Data breaches have a detrimental impact on the valuation of a compromised portfolio company (Yahoo example)
Various regulations are increasingly making cybersecurity mandatory.
For example, Enforcement actions from the US Securities and Exchange Commission (SEC) against companies in the brokerage, insurance, and tech industries for insufficient cyber protections and the failure to properly disclose them.
PE executives still don't realize that they run the danger of losing money, losing investments, and losing their reputation if something bad happens. De facto, taking cyber risks into account is necessary when injecting cash into a business. PE firms must be aware of the fact that there are numerous types of cyber threats to their portfolio companies, many of which are industry-specific. A growing trend among PE firms is the remediation, monitoring, and reporting of the cybersecurity capabilities of the companies in their portfolios.
Consequently, the impact of Black Swan Events such as cyber-attacks must be adequately estimated. In case they happen, the stakes are high, so consider the following:
How a "Cyber Black-Swan" Event Impacts Your Portfolio businesses:
Lack of control
Deal execution risks
Valuation discount
Reputational risks for VC and company
Future deals at risk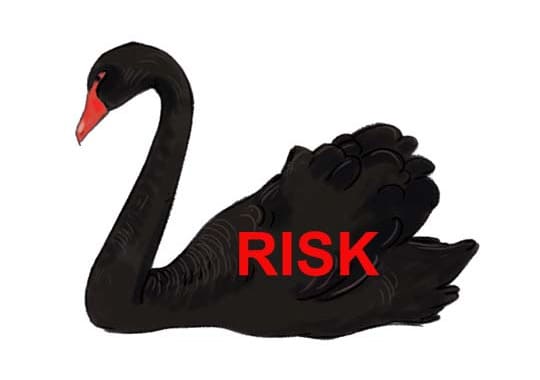 After it takes place the consequences might be irreversible.
Black Swan Short-term Impact on tangible assets:
Servers (encrypted by ransomware)
Endpoint computers (paralyzed, disconnected)
Data (published on forums)
Employees (can't continue their work)
Customers (want to get the answers and understand the impact on them)
Lawyers (want to sue your portfolio firm)
Black Swan Long-term consequences for Intangible assets:
Damage to the Brand
Stolen Intellectual property
Codebase
Patents
Solutions
Know-How
Contracts
Reputation
Pipeline
Pricing
Financial details
Coping technology secrets
Lost revenue
Future fundraising
Lawsuits
Fines
How UnderDefense Can Help Private Equities CIOs
Breaches happen to even the most protected technology companies like Google, but the difference between good and bad companies is the capability to quickly detect and mitigate the threat. And that's what we do best as an MDR provider & with our IR Automation Response platform.
UnderDefense is recognized globally as the Innovator in Managed Detection and Response because we prepare, enhance and stop known and unknown cyber threats with incident automation before they turn into business-disrupting events.
Similarly to Mandiant – UnderDefense was founded in 2016 as an Incident Response provider with Offensive and Defensive capabilities – to respond to cyber incidents all across the world. Nowadays we proudly protect 10 Private Equity firms and their portfolio companies.
With over $5B in AUM, we are the most solid cloud-based cyber security company that protects private equity portfolio companies at scale.
We have demonstrated success working with private equity firms and key stakeholders like the VP of Engineering, CTO, CIO, and CEO of their portfolio companies.
Through our experience, we've developed a leading framework for firms to address the most common concerns and risks leaders face:
New acquisitions come with surprises that can negatively impact deal value and lead to potential vulnerabilities
Lack of confidence in the integrity of all portfolio companies' security postures
The need to bridge the gap from startup business bootstrap mindset to portfolio company
The lack of a uniform foundation and uniform exit documentation
The need for a reliable way to track and rank risk across a portfolio
They require enterprise protection at a cost-effective price
How UnderDefense Protects Private Equity Firms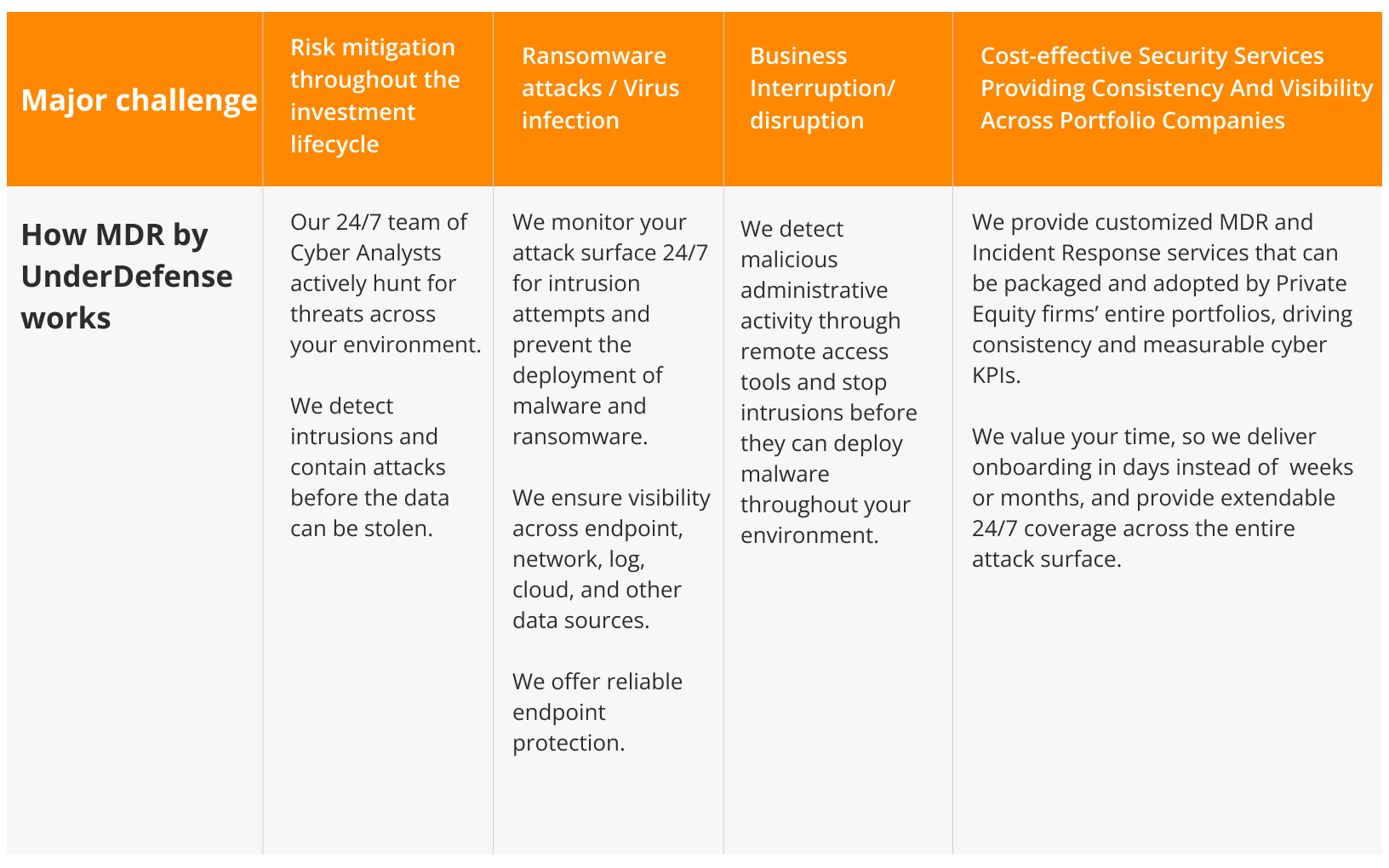 Why Our Private Equity Customers Choose UnderDefense
UnderDefense efficiently detects, disrupts, and remediates cyber threats targeting Private Equity Firms before they have a detrimental effect on your business and your portfolio companies.
Recognized – We are groundbreakers in Managed Detection and Response. We simplify cybersecurity so you can focus on your top priorities.
Agile – We can process data at the rate and volume necessary for your company.
Accurate – We're at the frontline of attacker tactics, techniques, and procedures, reducing the chances that your data will be compromised.
Rapid – Your business is back on track within hours
Reliable – We take full responsibility for every concept standing behind every letter in the MDR acronym
Affordable – 24/7 threat protection, detection, and response at a much lower price than DIY security packages
Thorough – Multi Signal Coverage and full security services support
Team – Cyber Risk Advisor + SOC Cyber Analyst and Elite Threat Hunters are on guard round-the-clock for your company.
Results
Your firm and portfolio companies can expect:


~50% reduction in threat detection and response total cost of ownership (TCO)
+50% additional coverage on top of commodity threat intelligence, leveraging proprietary technology and our Private Equity network of customers
99% reduction in threat detection and containment times from global averages