Strategic partnership between UnderDefense and Kyte Global 
UnderDefense and Kyte Global Partner to deliver the Next-Generation Detection and Incident Response Services.
New York, New York – 09th January 2020 – UnderDefense today announced a strategic partnership with Kyte Global, to combine UnderDefense's extensive industry knowledge in cybersecurity with Kyte Global's Information Security and Compliance Reporting solutions and services. The partnership is designed to provide enhanced capabilities to detect and mitigate the newest targeted attacks for iGaming, Cryptocurrency and Financial Services companies.
UnderDefense builds and harnesses full end-to-end cyber defense for the clients. Having security monitoring as the main focus, UnderDefense helps to develop an effective business-aligned security strategy. They specialize in developing incident detection and response plans to detect, prevent,  and mitigate ransomware infections.
Kyte Global offers a range of risk management and compliance services (like PCI DSS, ISO27001) across a wide variety of industries. They help clients identify their risk areas & support them in implementing practical and cost-effective solutions. Kyte Global's objective is to assist companies heavily reliant on information and communications technologies to achieve their business objectives in a secure manner that meets with Industry Best Practice.
"We are delighted to partner with such a knowledgeable and respected company like Kyte Global and foresee a great future together." – said Nazar Tymoshyk, CEO at UnderDefense.
"Kyte acknowledge the need for partnerships to tackle the growing number of threats that are being faced by companies around the world. Our partnership with UnderDefense provides a very important and valuable service to our clients, who benefit from the knowledge and professionalism, that is delivered as a managed service, by the team in UnderDefense." – said Trevor Axiak, Director, Kyte Global.
About UnderDefense
UnderDefense is a boutique cybersecurity company that started in 2016 and now has 45 top-notch security talents with a laser focus on Managed Incident Detection and Response and Security Operations. UnderDefense teams operate across the United States and Eastern Europe. They are also a member of the European Business Association, Nexia Group, a member and contributor of OWASP. The global B2B rating created by Clutch.co recognized UnderDefense as Top 3 B2B companies and Clutch Global Leaders during 2018-2019.
About Kyte Global
Kyte Global are specialist suppliers to the Financial Services and Gaming Sector and are resellers of the world's leading machine learning, artificial intelligence, fraud, risk, and compliance management solutions for the gaming, insurance, financial services, and blockchain sector.
Kyte Global offers services to banks, merchants and service providers and to organizations that wish to be licensed to operate from Malta. Our aim is to deliver the highest level of service in a prompt, cost effective manner using highly qualified and experienced information security professionals to deliver a comprehensive range of Information Security and Compliance Reporting solutions and services
Our company are providing services in Europe, Asia, Africa, North America, and the CIS region, with the opening of a regional office in Ukraine and with representatives in Ukraine, Singapore, Australia, and South Africa.
Cybersecurity is our core expertise. Let's get in touch and you will learn more about how UnderDefense can benefit your organization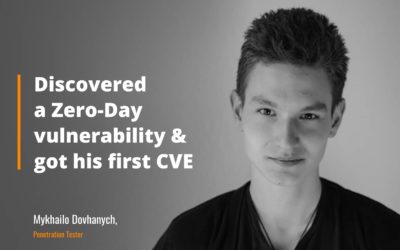 Mykhailo Dovhanych, 21, our Pentester has become a local celebrity. He made the digital world a bit safer by discovering a Zero-day vulnerability and getting his first CVE. We asked him a couple of questions to learn more about this exciting story: UnderDefense: What...
read more
Do you have any questions?
Please leave your contact below and we'll get back to you shortly.