Insurance and B
reach Response Expert
Accelerated restoration of business operations
UnderDefense provides your customers with services to help them prepare for attacks in advance. This will save them time in the most critical moments following a breach. With our services, they will be able to recover quickly after the incident, without suffering colossal financial and reputational losses.
PRE-BREACH
UnderDefense can reduce the probability of a breach by conducting penetration testing and incident response readiness services such as gap analysis and security audits. Knowing the methods of real hackers, we will help your company to identify gaps in cyber resiliency posture.
BREACH
UnderDefense provides your clients with incident response and forensic investigation services. These services will help your clients to react to the attacks as quickly as possible, minimize the damage, and recover with the least loss.
POST-BREACH
UnderDefense continues to cooperate with your clients after the breach. We will analyze their cybersecurity practices and create an incident response preparedness plan. We will prepare them to be operationally sustainable in the battle with cyber threats or malefactors.
Coverage of traditional Insurance and Cyber policies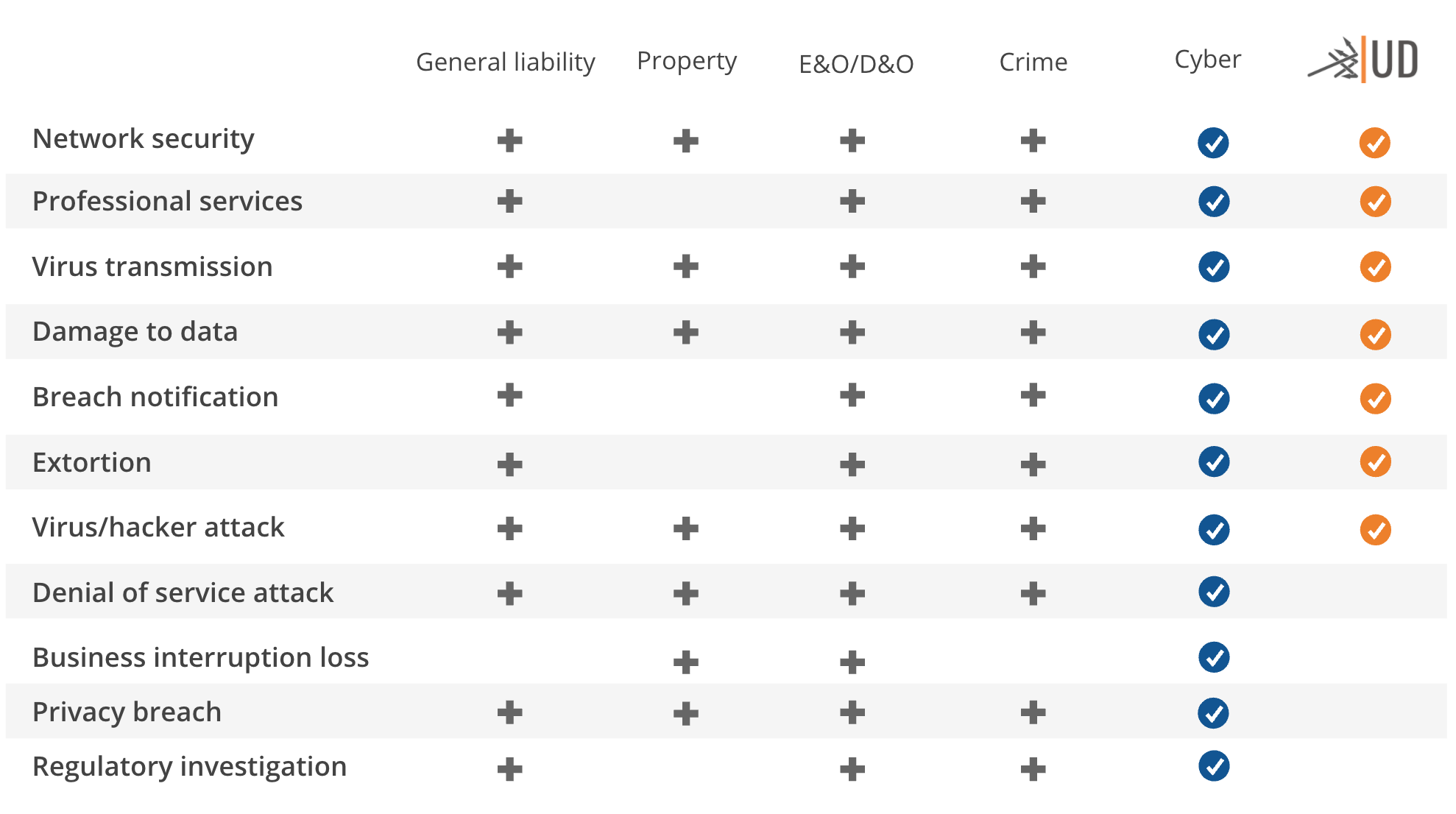 Benefits of working with

UnderDefense

 for breach services
We know how to identify how the attack was conducted, by whom, when, and why. With this information, we can accurately assess the damage caused.
We know that every minute counts during an attack. Our team's skills will save you time and money.
Our team consists of forensic experts with 10+ years of hands-on experience in DFIR. They are former National Security Services and Cyber Crimes Unit Officers.
We put client interest first and create confident relationships during the partnership. We study the environment of our clients at great length to come up with a unique solution.
UnderDefense is continually recognized as a key security solutions provider by independent, third-party networks and research organizations.
UnderDefense awarded as Top Cyber Security Consultants company in 2020 Worldwide, ranked as #1 in Clutch leaders matrix among 3,674 Firms
Proud to state that we are ranked #5 among more than 300 CyberSecurity Companies at The Manifest
Ranked among top 10 Security Consultants worldwide by Gartner Peer Insights
At the Splunk.conf event in Las Vegas, we participated in an amazing challenge Boss of the SOC and got 9th place among 1357 participating teams
Won a bronze medal in the International Exercise and Conference on Security Operations challenge in Budapest
Rated as the best Security information and event management service provider according to Comparitech research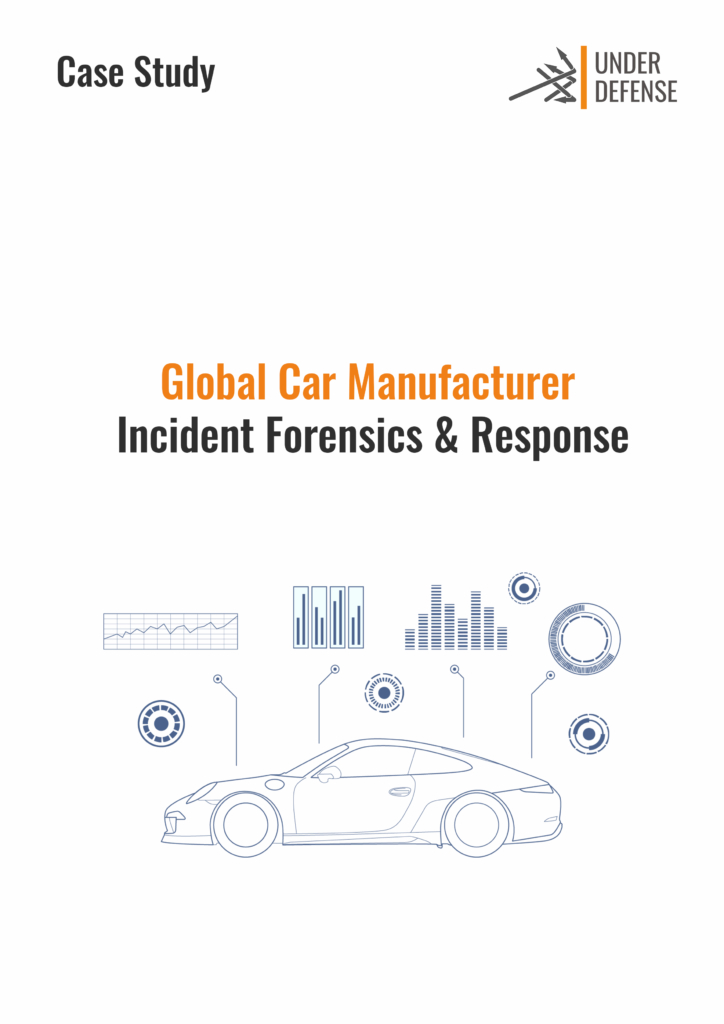 The team of incident responders at UnderDefense instantly reacts to a cyber attack. We put every effort into bringing your services back to normal and minimizing the damage caused, including data loss, resource abuse, and the loss of customer trust.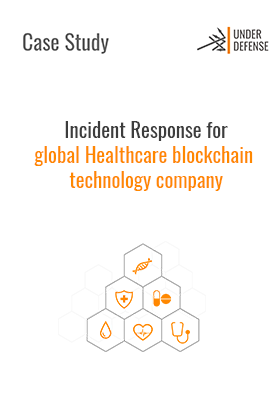 A global healthcare company that is focused on innovating the healthcare system. A pioneer that effectively introduced the use of blockchain in healthcare.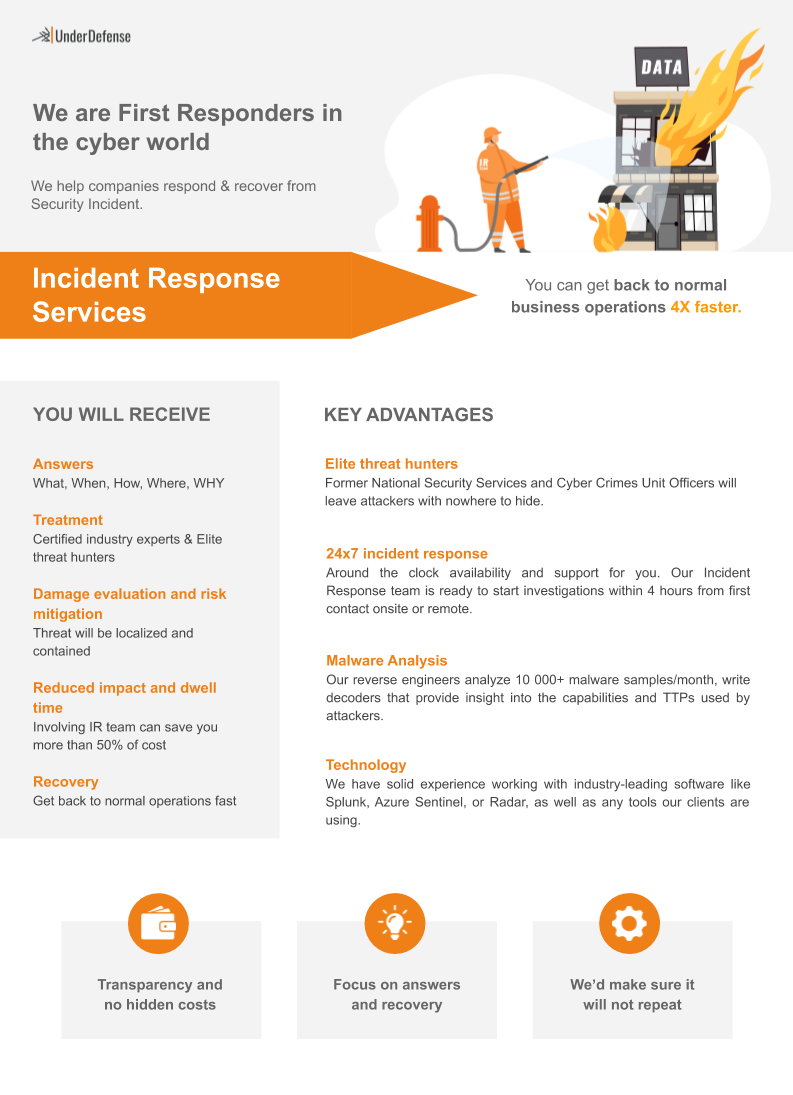 We are First Responders in the cyber world We help companies respond & recover from Security Incident.
Contact us for immediate assistance for a possible cyber incident or security breach.
We will get back to you as soon as possible or in case of urgency feel free to call:
Tel:  +1 929 999 5101