New Feature in AWS: Traffic Mirroring
Now security analysts are able to collect data fast and flexibly with a new feature. Traffic Mirroring in AWS has given an ability to transfer the traffic to a SIEM (like Splunk) and analyse it. This is targeted for cases when you need:
-to analyze the actual packets to perform a root-cause analysis on a performance issue, 
-to reverse-engineer a sophisticated network attack
-to detect and stop insider abuse or compromised workloads. 
Traffic Mirroring helps to filter users that display suspicious activities: try to access from outside, DDoS attack, scan or brute force directly in the AWS environment by optimizing time and reacting to threats faster. 
Contact us to learn more about AWS security trainings for your teams and security monitoring service to protect your DBs.
Cybersecurity is our core expertise. Let's get in touch and you will learn more about how UnderDefense can benefit your organization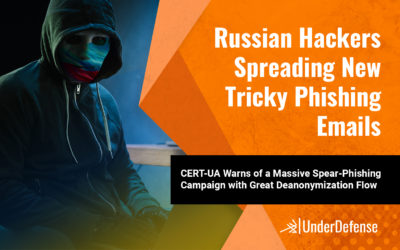 Russian Cybercriminals "Armageddon Group" Spreading New Tricky Phishing Emails with Great Deanonymization FlowOn April 4, 2022, the government emergency response team of Ukraine CERT-UA has warned of a massive spear-phishing campaign launched by a hacking group...
read more
Do you have any questions?
Please leave your contact below and we'll get back to you shortly.